Preliminary efforts related to a planned 60-story 750-foot residential skyscraper at the Downtown Y have taken a step forward with the application of two permits.
One of the permits is for stormwater grading, while the other would allow continued use of the four-story component of the Y during the demolition of the two-story YMCA structure on Church Street and construction of the subsequent new addition.
Nashville-based Barge Design Solutions is participating in the effort, according to one permit application. AECOM Hunt will be the general contractor.
Officials with Nashville-based Giarratana Development and the YMCA of Middle Tennessee announced in October 2021 the project, which will yield a 500-unit residential tower (to be Nashville's tallest building) and a major update to the nonprofit's downtown campus.
If standing today, the tower would rank as the ninth-tallest building in the Southeast. For context, Atlanta and Miami each offer three completed buildings of 750 feet or taller, with Charlotte home to two. However, Miami has six high-rises of that height or taller that are under construction or planned (with one more than 1,000 feet). Mobile, Alabama, offers a 745-foot tall building, but some of its height is derived from a decorative cap.
A January 2023 start of the Nashville project has been targeted, with the main address to be 1000 Church St. A June 2024 completion date for the YMCA component is planned. The residential tower's apartments will open in July 2025 and its condos in January 2026.
To carry a price tag of about $350 million, the residential tower will face Church Street, rising from what is currently a surface parking lot. It will unfold to the immediate east of Platform Way (on which sits the two Amazon towers). As part of the project, the Y buildings home to an indoor swimming pool and some administrative offices will be demolished and replaced with a six-story structure.
Chicago-based Goettsch Partners will serve as architect and is designing the tower to offer 360 for-rent apartments and 140 for-purchase condominiums to sit atop the rental spaces. No ground-level retail will be included.
The YMCA, which has served downtown Nashville for nearly 150 years, operates from two buildings on the site: the aforementioned component (opened in 1973) and a structure that was completed in 2008 and that will be retained.
The future Y building will offer about 60,000 square feet (with a replacement indoor swimming pool expected). The 2008-opened Y building will remain operational during construction.
The YMCA is located adjacent to the unfolding Nashville Yards, home (in part) to the Amazon Center for Operational Excellence. Nearby is mixed-used development Capitol View. Of note, Giarratana Development continues work on two residential towers — Alcove and Prime — located within one block of its future skyscraper.
Read more here.
Local office of Phoenix developer to move to MetroCenter
The local office of Phoenix-based real estate developer Alliance Residential Company will relocate its Nashville office to The Ivy in MetroCenter.
New York-based privately held real estate investment firm The Sason Organization owns the recently renovated 115,275-square-foot office building, which is located at 2 Vantage Way.
In the market since 2015, Alliance operates its local office at 1507 16th Ave. S. The company has about 10 employees based in Nashville, with Stephen Keller leading the local team as development director.
Alliance Residential's Nashville projects have included Broadstone Nations, Broadstone 8South, Broadstone Stockyards and Broadstone Gulch. Upcoming developments include Broadstone SoBro and Broadstone Centennial. In total, the company has delivered a collective more than 2,000 units in Nashville, with more than 1,000 announced units in the pipeline.
"… We are thrilled for Alliance Residential's Nashville office to be located in The Ivy," Keller said in the release. "This new space offers a great homebase to continue expanding our efforts to meet the housing needs of this rapidly-growing city."
The more than $3 million update to The Ivy is underway, with Trent Sullivan at locally based Lines Architecture leading design efforts. Construction is expected to be complete around this fall.
Leasing is led by Sarah Pettigrew and Ashley Marshall of Jones Lang LaSalle.
Via an LLC, The Sason Organization paid $16.5 million for the property in mid-2021 (read here and here).
Site work undertaken on Rutledge Hill property planned for building
Preliminary site work is underway related to a mixed-use six-story building eyed for the Rutledge Hill site fronting Hermitage Avenue and home over the years to Sole Mio and Copper Kettle.
A Texas-based LLC affiliated with Good Smoke Restaurant Group owns the 0.3-acre triangular site at 94 Peabody St., having paid $2.1 million for it in April 2014, according to Metro records. Across Hermitage sits Rolling Mill Hill, with SoBro to the west and north.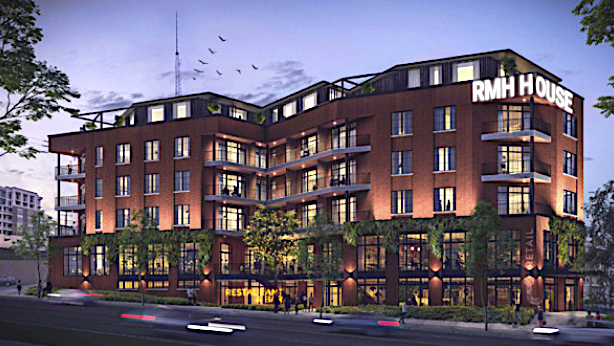 The owners — who had planned a Jim N Nicks Bar-B-Q for the since-razed building that last sat on the site — have enlisted Ragan-Smith Associates (land-planning and engineering) and Centric Architecture, both of which are locally based, to assist.
A timeline for the construction is forthcoming, according to a source.
Tentatively to be called RMH House, the building could offer retail spaces and an undetermined number of, seemingly, residential or hotel/short-term rental spaces. Of note, the structure will address Peabody, Hermitage Avenue and a small spur of First Avenue, with the three creating the triangular lot.
Read more here.