Details continue to unfold — and a rendering has been created — regarding a 21-story hotel building planned for a three-parcel surface parking lot located adjacent to Hume-Fogg Academic Magnet High School.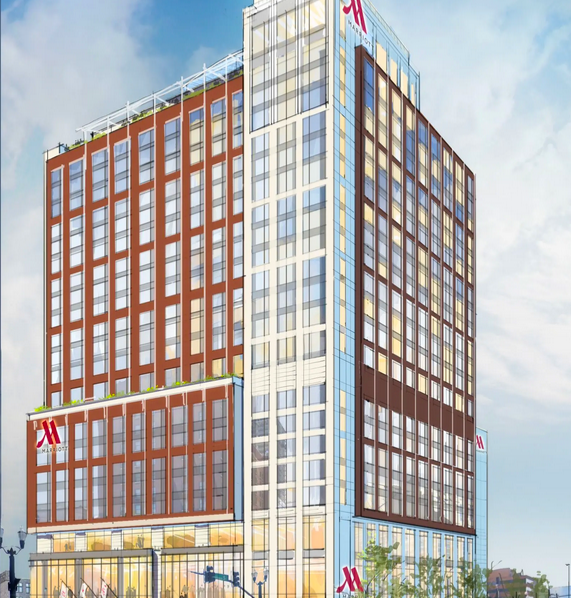 As the Post reported in early March, and according to a water permit filed with Metro, a 428-room Marriott hotel is eyed for the site. The main address is 117-119-125 Seventh Ave. N. The document notes the hotel building will offer a 400-seat restaurant taking about 16,000 square feet.
The prospective developer of the property is Dallas-based Alamo Manhattan, company officials with which could not be reached for comment. It is unclear if the deal will involve a sale or a ground lease.
The Alamo Manhattan website now offers a rendering and notes both the number of floors (23) and 25,000 square feet of meeting space.
Additional amenities will include a coffee shop, an 'M' Club lounge, a business center, a fitness center and an elevated pool deck. Marriott International will manage the hotel, with the room finishes to offer a contemporary design.
The family of the late Monroe Carell, a parking industry official and philanthropist, owns the three-parcel property, which offers a collective 0.78 acres and sits across Seventh Avenue from boutique hotel Holston House.
Nashville-based Civil Site Design Group will participated in the project.
AM will go before the Metro Planning Commission on June 23 to request an updated to the Downtown Code related to the plan's concept.
Details unfold for Green Hills residential project
Brentwood-based real estate company GBT Realty has released the amenities package for its condominium tower Eden House, to be located in Green Hills.
A spring construction start date for the building, with an address of 2025 Richard Jones Road, had been planned, and GBT has yet to announce an updated groundbreaking.
Designed by Gresham Smith Partners with interior design by LYNE Interiors (both locally based), the 16-story building will offer 92 residences being billed as "luxury" product. Eden House will include one-, two- and three-bedroom residences priced from $700,000 to more than $4 million and range from 912 square feet to about 2,900 square feet. Approximately 8,000 square feet of retail space will be included.
Amenities will include 24-hour concierge service, co-working and meeting rooms, a lounge/bar, a billiards room, a wine tasting room and chef's kitchen, a fitness center, a yoga studio, a golf simulator, a dog wash with grooming stations and a rooftop pool, among others.
"We wanted to design something custom, original and warm, elevating the design of common areas and inviting a sense of community amongst residents," Lynley Hammes with LYNE Interiors said in the release. "Eden House's amenity spaces feature black walnut wood flooring in a custom patina that is all locally sourced, custom light fixtures, white oak wall paneling, and rich hues and visual textures throughout that are befitting of the grandness of this property."
GBT Realty has engaged Compass Development Marketing Group to oversee sales and marketing, with Maranda Blanton and Heather Gustafson leading the effort.
New images released for West Nashville project
New images have been released for the Breeze Block mixed-use project under construction in West Nashville's Charlotte Park
Nashville-based developer Nathan Lyons is undertaking the development via his Vintage South.
Lyons — who just sold his Stocking 51 in The Nations for $58 million (read here) — specializes in reinventing existing industrial buildings with retail, restaurant, residential and creative office spaces. In this case, he is updating an existing brick warehouse located at 6100 Robertson Ave. with commercial space and supplement it with residences. The warehouse had been home to Proctor Marble and Granite, a tile contractor.
Breeze Block will offer 24 for-purchase townhomes (each with a two-car garage). Twelve of those residences (in pods of four) will face Vernon Avenue, with the other 12 (also in three pods) located internally within the site.