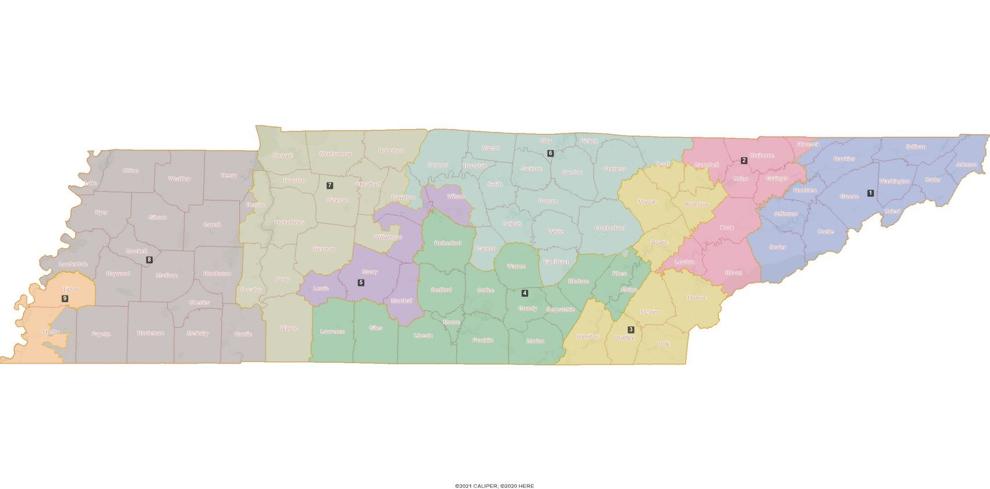 The mostly suburban and rural congressional districts home to Republican U.S. Reps. Mark Green and John Rose would add significant chunks of Nashville under a new map revealed by state House Republicans Wednesday.
House Speaker Cameron Sexton (R-Crossville) confirmed earlier this week that Republicans did in fact plan to split the Democratic-leaning 5th Congressional District, mostly made up of Nashville. But the new map reveals more details of the plan.
Under the new map, which both the House and Senate still must approve, the comfortably Republican 6th and 7th Congressional Districts would add parts of North Nashville and East Nashville, while the Nashville-based 5th would retain much of the southern part of Davidson County and add a chunk of Williamson County and more conservative counties to the south and east.
U.S. Rep. Jim Cooper (D-Nashville) has for months urged the legislature not to cut parts of Davidson County from the district he has represented for nearly two decades.
"The damage this map does to the political influence of minority groups in Nashville is devastating," Cooper said in a release. "Our robust, diverse communities in Nashville are represented and affirmed in Washington, DC today when Nashville has its own voice in Congress. That voice is silenced when we are colonized by outlying rural communities. The map was released for the first time today and the more people learn about it, the more they will hate it. The Tennessee Titans stadium will be in one district, and the team's practice facility in another — this makes no sense."
Odessa Kelly, a Nashville activist challenging Cooper in the Democratic primary, said under the new plan she's in a different district than Cooper.
"Dividing up Nashville is an intentional attempt to dilute the voices of Black and brown voters in Tennessee and destroy a progressive, Democratic stronghold in our state," she said.
The plan could leave Democrats with just one member of the Tennessee congressional delegation — the Memphis-based 9th district — but some observers from both sides of the aisle have suggested that Republicans are taking a risk by diluting their strength in Republican districts, a bill that could come due later in the 10-year redistricting cycle.
"This is a vicious map," Rep. Antonio Parkinson (D-Memphis) said.
House Democrats and civic groups submitted their own redistricting plans that kept Davidson County in one piece, along with small segments of neighboring communities like La Vergne and Smyrna.
The Senate redistricting committee will meet to consider plans on Thursday, and the full legislature is expected to vote on the maps in the coming weeks.