Nashville gets a lot of attention for its successes — the cranes dotting the skyline, the big businesses moving to town. But the city is also facing significant challenges. Housing, a good education and a good wage are out of reach for too many Nashvillians. It's up to those on our 2023 In Charge list to push the city toward a brighter future.
See the In Charge lists for other industries here.
---
Jane Alvis — Owner, Alvis Co.: Has lobbied for the Tennessee Municipal League and Metro Nashville Airport Authority at the state Capitol in recent years, as well as for energy companies doing business with Metro. A former staffer in governor's and mayor's offices and formerly a partner at The Ingram Group.
Rogers Anderson — Mayor, Williamson County: Last year won reelection to yet another term leading the wealthy county where he has been mayor for more than two decades.
Ward Baker — President and Founder, Baker Group Strategies: Strategist who has helped Marsha Blackburn and Bill Hagerty win the last two U.S. Senate races while maintaining other campaign and corporate work.
Marsha Blackburn — U.S. Senator: Tennessee's senior senator, still in her first term. Has focused on border security and criticisms of the Biden administration since the departure of her ally Donald Trump.
Heidi Campbell — State Senator, District 20: Ran unsuccessfully for Congress in 2022 two years after flipping a Nashville state Senate district. Former Oak Hill mayor.
Mark Cate — Principal, Stones River Group: Lobbies for various clients at the state and Metro. Former Bill Haslam aide.
John Ray Clemmons — State Representative, District 55: In office since 2014, the local attorney is the new chair of the House Democratic Caucus after beating fellow Nashville Democrat Vincent Dixie.
John Cooper — Mayor, Metro Nashville: After a term defined by a pandemic, a tornado and a bombing, decided not to run for reelection. Focused on a future Titans stadium replacement, among other unfinished business.
Yuri Cunza — CEO, Nashville Area Hispanic Chamber of Commerce: Frequent presence at community events, has led business group for more than a decade.
John Drake — Chief, Metro Nashville Police Department: Took over department where he started as a patrol cop during a contentious 2020 summer and a rushed departure by his predecessor, Steve Anderson.
Butch Eley — Commissioner, Tennessee Department of Transportation and Deputy Governor: Veteran business executive has held several top roles in the Lee administration. Most recently moved from finance to transportation as Lee pushes a major roads plan.
Jeremy Faison — House Republican Caucus Chair: Conservative lawmaker stood out by opposing former Speaker Glen Casada. Elevated to leadership following Casada's fall.
Glenn Funk — District Attorney General, Davidson County: Won reelection in 2022. Nashville's top prosecutor continues to be at odds with state leaders over various issues.
Brenda Gadd — President, Rethink Public Strategies: Political operative and strategist who has made electing more women to public office a top priority.
Erica Garrison — Partner, Bradley Arant Boult Cummings: Former Metro lawyer helps prominent clients navigate regulatory and other governmental processes. Attorney and lobbyist moved from Waller to Bradley.
Scott Golden — Chairman, Tennessee Republican Party: Longtime Tennessee GOP operative took over at the state party in 2016 and has maintained its dominant position in state politics.
Bill Hagerty — U.S. Senator: Former investor, state ECD official and ambassador to Japan was elected to Lamar Alexander's Senate seat after a chippy Republican primary.
Tre Hargett — Secretary of State: Elections chief supported Trump push to overturn 2020 election results in other states. Former Republican state House member has been a constitutional officer since 2009.
Joe Hall — Partner, Hall Strategies: Metro lobbyist's clients have included major players like the Metro Nashville Airport Authority, the Nashville Predators and real estate development companies. Former newspaper reporter and Ingram Group partner.
Greg Hinote — Partner, Jigsaw: Former aide to Mayor Karl Dean and Rep. Jim Cooper. With Sam Reed and Beecher Frasier, established lobbying and consulting firm with tourism, tech and sports clients.
Tom Ingram — Founder, The Ingram Group: Onetime adviser to Lamar Alexander and Bill Haslam, veteran lobbyist's clients include BlueCross and Google.
Bradley Jackson — President and CEO, Tennessee Chamber of Commerce and Industry: Has led state chamber since 2016. Key voice in political talks regarding the local business climate.
Jack Johnson — Senate Majority Leader: Fended off a spirited GOP primary challenge in 2022. Franklin-based senator has carved out role shepherding legislation targeting drag and trans health care.
Tequila Johnson — CEO, The Equity Alliance: Along with co-founder Charlane Oliver, started the Black empowerment and civic engagement organization in the wake of Trump's 2016 election and have since grown it to include several staff members, an affiliated political advocacy group and a statewide voting rights push.
Justin Jones — State Representative, District 52: Last year was elected to succeed Nashville Rep. Mike Stewart. Fisk grad was frequent presence at protests around the Capitol prior to his election.
Kim Kaegi — Fundraiser: Top campaign fundraiser has worked on both sides of the aisle, including for Bill Lee, Bill Hagerty and Megan Barry.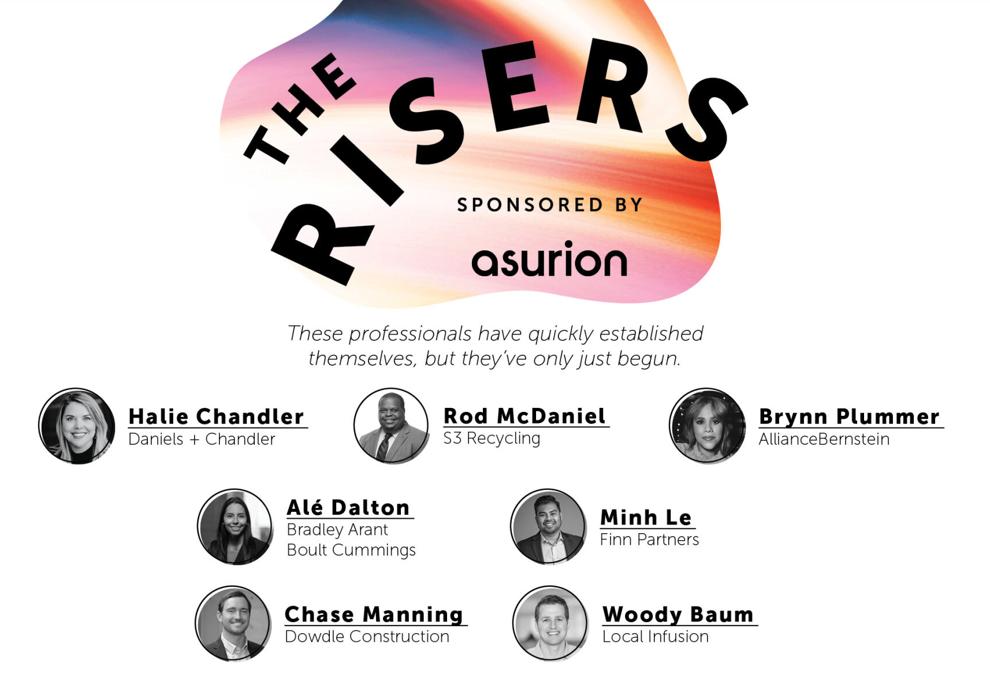 William Lamberth — House Majority Leader: Conservative has helped push Bill Lee's favored legislation while in leadership of supermajority caucus.
Brad Lampley — Partner, Adams and Reese: Powerhouse lobbyist and adviser leads law firm's practice focusing on the intersection of business and government. Ex-UT lineman remains involved in statewide sports efforts.
Bill Lee — Governor, State of Tennessee: Easily won reelection without facing a strong primary challenge or much pressure from Democrats. Now starting his second term with focus on roads, education and culture war.
Lisa Sherman Luna — Executive Director, Tennessee Immigrant and Refugee Rights Coalition: Took over leadership of statewide organization in 2020. Involved in refugee resettlement work, political advocacy and other community services, sometimes in the middle of tense political fights.
David McMahan — Principal, McMahan Winstead & Richardson: Long list of lobbying clients includes Tennessee hospitals and alcohol industry. Firm in 2020 expanded to Washington.
Randy McNally — Lieutenant Governor, State of Tennessee: Longtime lawmaker is a key figure in any debate at the Capitol. In leadership role since 2017.
Stuart McWhorter — Commissioner, Tennessee Department of Economic and Community Development: Former FirstBank chair and Nashville Entrepreneur Center leader joined Bill Lee's government initially as finance commissioner. Now back with ECD.
Bob Mendes — Metro Councilmember, At Large: Key figure in city's fiscal debates, including related to a proposed Titans stadium. This year opted against running for mayor.
Andy Ogles — U.S. Representative, Fifth District: Former Maury County mayor and anti-tax lobbyist won crowded GOP primary for redrawn district, formerly concentrated in Nashville and now containing pieces of Williamson and other more conservative counties. Garnered national attention for exaggerated resume.
Charlane Oliver — State Senator, District 19: Upon Brenda Gilmore's retirement, the experienced political and nonprofit official won a spirited Democratic primary for the open Senate seat. Helped found and lead The Equity Alliance.
Justin Owen — President and CEO, Beacon Center of Tennessee: Leads the libertarian-leaning think tank and advocacy group that weighs in on government misspending and advocates for school choice.
Erica Vick Penley — Member, Bass Berry & Sims: Leader of firm's government advocacy and public policy group, with a lobbying client list that has included Pfizer and the state's electric co-ops.
Hendrell Remus — Chair, Tennessee Democratic Party: In early 2021 was elected to lead the party that has struggled for years to hold the line against surging Republicans. Reelected to a second term early this year.
Ralph Schulz — President and CEO, Nashville Area Chamber of Commerce: Longtime leader in the city's business and tourism communities.
Sandra Sepulveda — Metro Councilmember, District 30: Serves a diverse area of South Nashville as the Council's lone Latinx representative. Elected in 2019 as the council's youngest member and has since proven one of its most effective advocates and communicators, especially on matters of equity, housing and immigration.
Cameron Sexton — Speaker of the House: Elevated to top job by his Republican colleagues after the fall of Glen Casada. Widely believed to be charting a path to higher office.
Patrick Sheehy — President, Tennessee Business Roundtable: Former political adviser to Cracker Barrel now runs organization aimed at supporting statewide business community. 
Kathy Sinback — Executive Director, ACLU of Tennessee: Last year was named to succeed longtime leader Hedy Weinberg at statewide civil rights organization. Former Davidson County Juvenile Court administrator and public defender.
Jonathan Skrmetti — Tennessee Attorney General: Picked last year by the Supreme Court to succeed Herbert Slatery. Former deputy AG and chief counsel to the governor, the Harvard Law grad has ramped up the AG's office's media efforts.
Zulfat Suara — Metro Councilmember, At Large: First elected in 2019 and now seeking a second term. An immigrant and accountant, has quickly become one of the body's best-known figures.
Tori Venable — State Director, Americans for Prosperity: Leader of the Koch-backed political organization often sees eye-to-eye with the state's Republican supermajority. Has vocally opposed spending on a future Titans stadium and Ford campus.