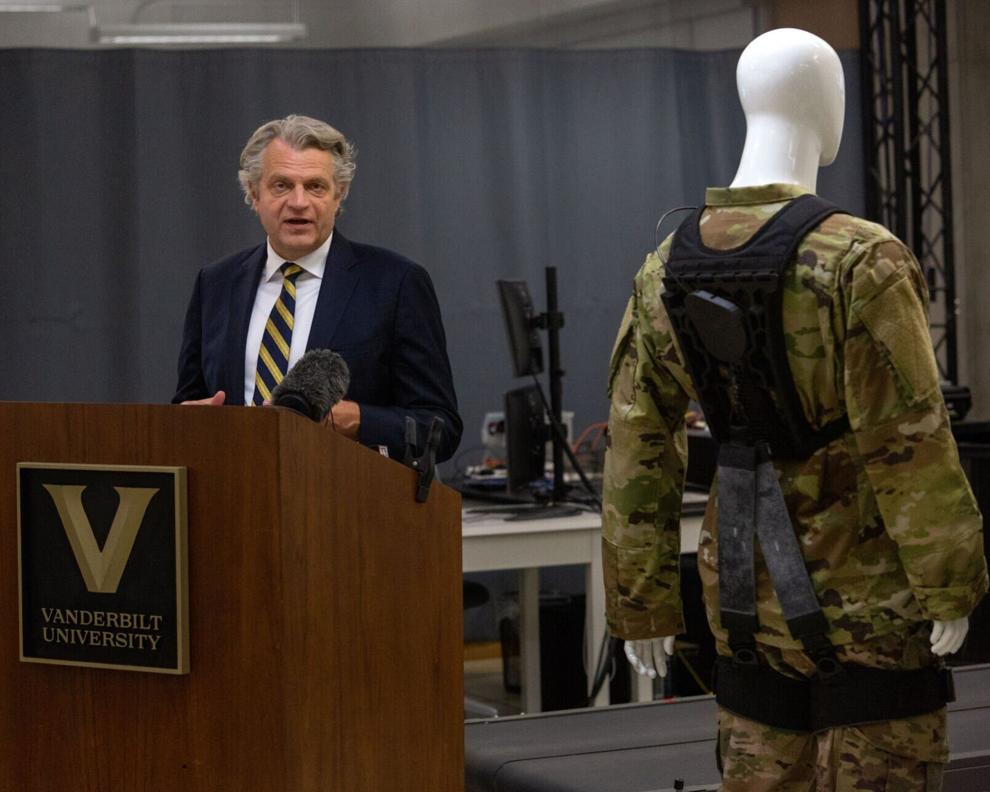 Vanderbilt University hosted U.S. Sen. Marsha Blackburn on Monday morning for a tour of their research facility where a group has been developing and testing a military exosuit in partnership with the U.S. Army.
The Soldier Assistive Bionic Exosuit for Resupply (SABER) was developed as part of the Army's Pathfinder Program, which uses Nashville's proximity to Fort Campbell to work with soldiers from the 101st Airborne Division, 160th Special Operations Aviation Regiment and the 5th Special Forces Group in developing and testing the tool that aims to reduce the physical toll on soldiers' bodies. 
The $1.2 million collaboration kicked off in August 2021, and now one year later, the exosuit, which allows soldiers to lift and carry more weight with reduced stress to the body, is being declared a success in progress.
"This puts our researchers and our students in a unique position to partner with soldiers and work with them to develop new technologies that make a difference to the Army in their mission," Vanderbilt University Chancellor Dr. Daniel Diermeier said. "We are proud that our researchers are working closely with the soldiers at Fort Campbell to build a new model for research and development that is inspired and informed by their needs.
"Vanderbilt and other partners in Tennessee, can lead with soldier-inspired research innovations that will be rapidly commercialized with startups and partnerships."
According to the Journal of Orthopaedic and Sports Physical Therapy, the U.S. Department of Defense reported that musculoskeletal injuries are the leading contributor to disability for military members.
"This is vitally important to us for the health, the safety, the well-being, the skillsets and ability of our men and women in uniform. ... They know what the problems are, and to work with individuals that can help them solve those problems, " Blackburn said, noting competition with peer and near-peer nations such as China and the growing needs of the U.S. military's newest service branch, the Space Force.
Blackburn said that Tennessee's Oak Ridge National Laboratory is also a partner in the project, and touched on the role of 3D printing technology in aiding service members who are deployed who now have the ability to create replacement parts as needed.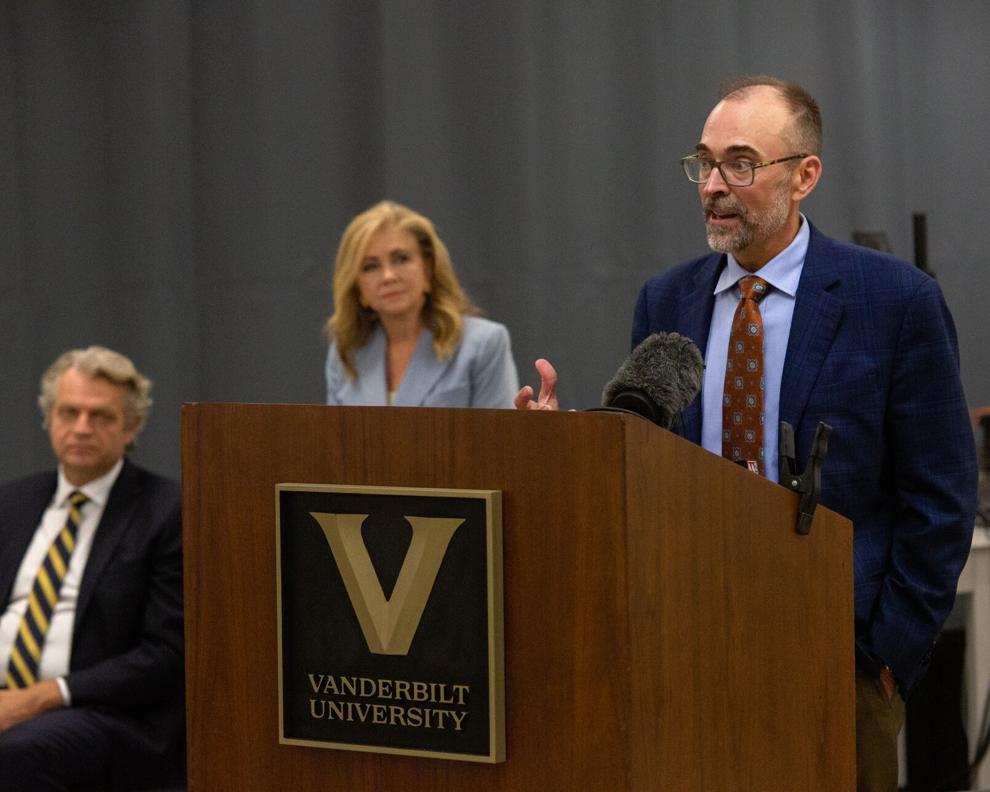 Vanderbilt Associate Provost of Research Doug Adams said that the Army is continuing to invest in testing and training with soldiers to ensure that the exosuit fits all the needs before going into large-scale production, but an exact timeline of continued testing and implementation was not clear.
"Most exosuits are way too heavy for one thing, so you don't want to put on something that actually weights the soldier down and gives them an increased burden," Adams said. "But I think the big area where the suit sets itself apart, is that that functionality that Senator Blackburn talked about, where it can essentially give you a boost, you can flip a switch and turn that on, or turn that off."
Adams also said that a benefit to the SABER exosuit is the minimal amount of training that soldiers to use the device which is in the style of a lightweight fabric harness that attaches to the legs and torso connected by elastic bands. It is easily put on over the user's uniform and can be worn without impeding other functions and movements of the user when the suit isn't needed for a specific task.
"And so when you're doing the other 98 percent, of what you do during the day, you don't need that functionality," he added. "And so you can switch it off. So it's that it's that listening to soldiers about what they really need, and then incorporating that into the innovation and the design that really sets that technology apart."
The presentation also showed off the STAR Hammer (Stake Assembly and Removal), which was developed to meet a variety of specific needs of soldiers.
Adams said that the opportunity to work on the project has been "transformational."
"As researchers, we love working on really exciting things, but what we love most is having the research see light of day, and actually get implemented in the real world," Adams said, with Diermeier adding that the collaboration has positive impacts beyond the walls of Vanderbilt and Fort Campbell.
"It also helps us establish Tennessee as the center of innovation," Diermeier said, "and having that soldier-inspired innovation creates new solutions that we wouldn't have thought on our own because we have to recognize and partnership and that creates new ideas, produces new products, and [allows us to] talk to companies [about the technology] that can be broadly used in a whole variety of areas, and I think this is a this is an approach that is unique among universities."
Nashville-based Herowear, opened in 2019, already produces a civilian version of the exosuit that was also developed at Vanderbilt, called the Apex model, which is primarily used in commercial industrial manufacturing and warehouse environments, with essentially the same goal, to reduce the physical toll on a user who is doing manual labor.
Herowear CEO Mark Harris said that they currently have more than 150 clients in the civilian market and that they will soon ramp up production of the SABER model for the DOD.
"There's just been a huge outpouring of interest from industrial clients, who actively reach out to us to get access to the technology," Harris said. "So I think, especially with post pandemic, a tight labor market, people are trying to figure out how can I take care of my workers? How can I keep them healthy? How can I retain them. And this helps that process. From a user perspective, we've seen really high user adoption rates. And immediately when you put the technology on, you can feel the difference, which encourages utilization."
Harris said that Herowear plans to launch a variety of exo-devices to meet the needs of a variety of industries and tasks.
And while the field of exosuit and exoskeleton research, especially within military applications, is crowded, their future implementation is not always guaranteed, as seen with the highly-publicized U.S. Special Operations Command's Tactical Assault Light Operator Suit (TALOS), which was announced in 2013 but never made it out of the prototype phase.