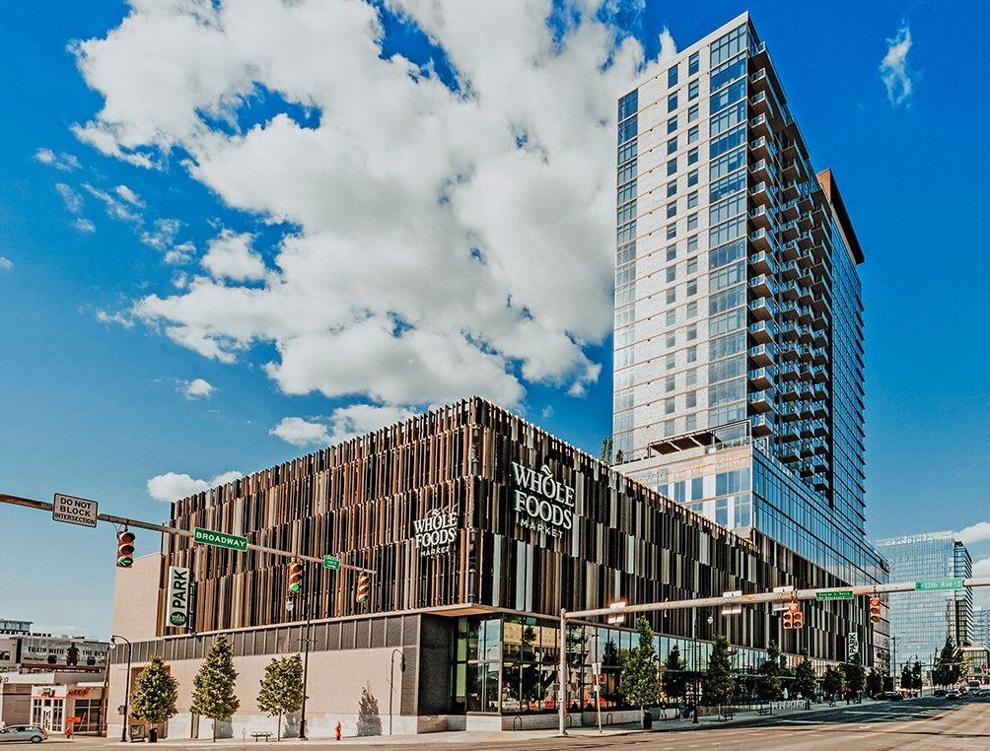 Downtown mixed-use tower 1200 Broadway — recognized for its Whole Foods grocery store — has sold for approximately $295 million, multiple sources said, with the deal likely shattering the city's per-apartment record.
The new owner of the 26-story tower, located at the address from which its name derives, seemingly is Boston-based Intercontinental Real Estate Corp.
The seller was Austin-based Endeavor Real Estate Group, which paid $14.6 million for the 1.56-acre site in 2015 and developed it with what is called 1200 Broadway. The building — which offers 313 apartments, 66,000 square feet of office space, 46,000 square feet of retail space (PNC Bank joins Whole Foods on the ground level) and 485 parking spaces — opened in 2019.
Because 1200 Broadway offers a significant amount of non-residential space, the per-unit mark is challenging to calculate, industry officials told the Post. But sources said the percentage of the sale that covers the residential component of the overall building yields a per-residence equivalent of more than $600,000. This compares to the recently set record of $442,000 per unit, a price set in December when Washington, D.C.-based WhyHotel paid $140.1 million for downtown's 317-unit mixed-use tower The SoBro (read here). The then-record was well more than the previous local per-residence highs in the mid- to upper-$300,000s.
Relatedly, and when parking is factored, the per-unit mark for the sale of the 1200 Broadway units is more than $660,000, the sources said.
The Davidson County Register of Deeds has yet to record the transaction, but multiple sources confirmed the transaction. Intercontinental officials could not be reached for comment.
Lincoln Property Co. is now managing 1200 Broadway (UDR was the previous manager).
The Post was unable to determine if brokers were involved in the deal.