Nashville-based development company Giarratana has paid $4,925,000 for a postage stamp property located next to the Tennessee State University-Avon Williams Campus building and on which it is planning a tower with attainable for-rent apartments.
A small modernist commercial building sits on the 0.21-acre site, with an address of 901 Dr. Martin L. King Jr. Blvd. (Charlotte Avenue).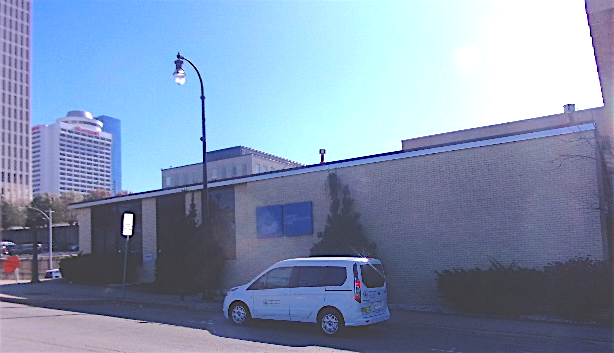 Nashville-based commercial real estate broker and investor Lance Bloom and Charlie Jigarjian and Jonathan Krasner, co-owners of New York-based 7G Realty, were the sellers. The partners paid $2.4 million for the property in March 2021.
The transaction is the equivalent of $538 per square foot based on acreage, a figure that sources told the Post is reasonable.
No brokers were involved in the transaction, with the small modernist commercial building positioned on the site still now empty (after having most recently accommodated the local office of Farmington, Connecticut-based Otis Elevator Co.).
According to a Davidson County Register of Deeds document, Giarratana has landed a $5 million loan from McMinnville-based First National Bank of Middle Tennessee.
Near the King Boulevard site and on Church Street, Giarratana continues construction on residential towers Alcove and Prime and is planning for a portion of the downtown YMCA property for a 60-story 750-foot residential skyscraper to offer 500 condominium units (read here). Preliminary work is underway on that project.
Tony Giarratana, company founder, said his leadership team initially asked Bloom if it could lease the small building on the just-purchased property for material storage related to the Alcove development. After signing a contract with Bloom, the team — which also includes Morgan Stengel, Jacob Chapman and Chari Lewis — began assessing Mayor John Cooper's new mixed-income housing PILOT program, determining the program "has merit."
"While early in the process, we are evaluating a tower that would feature a mix of affordable- and market-rate housing," Giarratana said. "Importantly, we would want it to be so cool that no one will believe it [offers] affordable [housing]. If successful, we hope it will serve as a model for addressing Nashville's affordable rental housing deficit."
Giarratana has been developing on Church Street since unveiling mixed-use high-rise building The Cumberland in 2000. The company operates its offices on the street, with its work also having included Bennie Dillon (an adaptive reuse project), mixed-use tower Viridian and 505, a 45-floor skyscraper that opened in 2018 and, at 535 feet, ranks statewide behind only Four Seasons Residences for buildings with the highest occupiable floor.