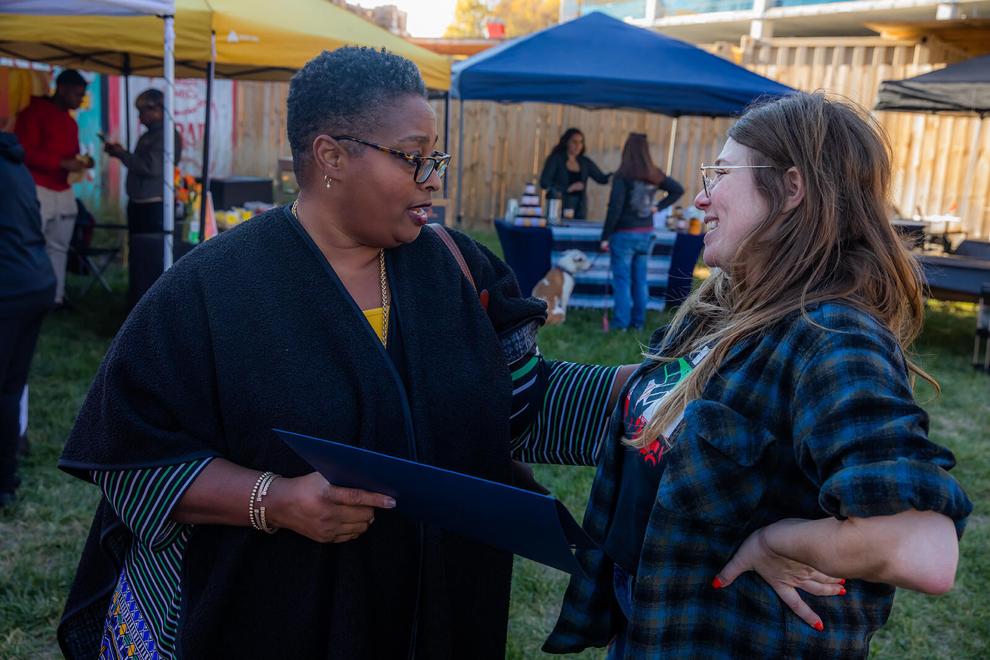 The job, under previous officeholders, was called the director of economic and community development, and most recently it was held by Courtney Pogue.
Channel told the Post about what changes she aims to make, the issues that have caught her attention and how she plans to use her past lessons from her former position as a guidance tool to influence her decisions. Previously, Channel was Tennessee director for the U.S. Small Business Administration.  
"I learned that we need to keep it simple," she said. "Access to capital and access to business development services in Davidson County should be seamless and simple – especially for small business."
---
After working for the SBA for eight years, why did you choose to join the mayor to work on the city's economic development?  
Actually, I've worked for the U.S. Small Business Administration for almost 20 years but with eight years here in Tennessee, serving statewide, and before that in Washington,D.C., but Nashville has been my home for those entire eight years and I wanted to have a greater impact with/for those businesses here in my neighborhood, in my city and in my county. Working for SBA, I traveled from Memphis to Johnson City and everywhere in between in order to support the SBA mission of aiding small business growth and development – now I can travel from Bellevue to Hermitage and from Antioch to Joelton meeting the needs of the place I call home and supporting the mayor's vision to make this city a place that works for every neighborhood. 
What did you learn in your last position that will help you in your current role?  
After working for the SBA, often programs got launched at a national level that were not often seamless nor simple and once that program hits the ground, businesses feel that pain where access became inaccessible because of red tape. I'm looking forward to using those lessons to make Metro government an even more helpful resource for residents hoping to start or grow their business.
As the director of economic growth and small business development, what are you planning to focus on?  
Better connecting all of our residents with the business community from large corporations to small emerging businesses to tiny mom and pop. Sometimes the connector and touchpoint between residents and business may be a nonprofit, or an educational institutional, orMetro government agency. I hope to improve communication between all these stakeholders which in turn will help us grow the right way. For instance, if a citizen is reentering society after incarceration, there are great nonprofits that can get him or her connected to resources to make the transition. One of those resources happens to be an active nonprofit here in Nashville that teaches entrepreneurship to women at the Tennessee Prison for Women.  
Many have come home and started businesses with the free resources available in town, but absent a connector– a government agency or nonprofit or educational institution – making that connection, the women may not know where to start or how, nor even know that these free and low-cost resources already exist to help them, not just to become self-sustaining but to create jobs for others.  
Even further, large and major corporations have active supplier diversity programs with their own internal goals to procure products and services from MWBE [minority women business enterprise] small businesses. I want those giant corporate citizens to take a deeper dive into what Nashville-based MWBE and small businesses are currently in that pipeline, and how we – as a county and with local partners – can help get more local Davidson County-based suppliers into their existing MWBE and small business pipeline. Simultaneously, that seamless and simple ecosystem of small business providers is laser-beam-focused on building the capacity and capability of those small business here to be awarded that next contract – to, ultimately, hire more residents.
In your first few weeks, what challenges have you already noticed small businesses face that you are aiming to find solutions to?  
Navigating the small business ecosystem providers is not easy for small business based here in Davidson Country. There are so many resources doing really great work to help business start and scale, but it may be difficult to find the right provider to meet that business owner at their very specific point of need. For instance, some simply need a small dollar loan. Others may need capital to construct a building. Even others may need handholding for government contracting or business plan or a marketing plan. We have multiple providers already here; it's not always easy to find out which one is the right one at the right time. Small businesses don't have unlimited time and staff to figure that out.  When one is a solopreneur, he/she/one has to be laser-beam-focused on the bottom line and trying to find the right resource should not be a time burner nor a challenge. We can and will do a better job as a Metro government to help folks navigate that ecosystem.
How will you go about educating business owners about opportunities that can help their businesses?  
Using community connectors that they already trust, amplifying resources that are already available and working with partners – nonprofits, educational institutions, Metro Council, Nashville Chamber as well as neighborhood and smaller diverse chambers – to fill the gaps.