The Davidson County Register of Deeds has recorded the transaction price involving Fairgrounds Nashville-area apartment property Accent Edgewood, with Columbia, South Carolina-based PassiveInvesting.com having paid about $77.64 million.
The 236-unit building offers an address of 2165 Nolensville Pike.
According to a separate document, PassiveInvesting.com has landed an equity investment valued at $58.5 million from Atlanta-based Acre Credit Investments.
The specific sales price was $77,644,000. As such, the deal is the equivalent of $329,000 per unit.
As the Post recently reported, the seller was Atlanta-based Westplan Investors, which paid $7.15 million for the 4.95-acre property in December 2019, before redeveloping the site with the two-building Accent Edgewood (formerly called Braxton Music City).
The PassiveInvesting.com website notes the company has 4,318 apartment units under management, representing a collective value of about $1 billion.
Read more here.
Permit sought for Midtown mixed-use building project
The effort to undertake a 14-floor mid-rise mixed-use building slated for a Hayes Street site in Midtown has taken a step forward, with a permit to allow for shell construction having been applied for.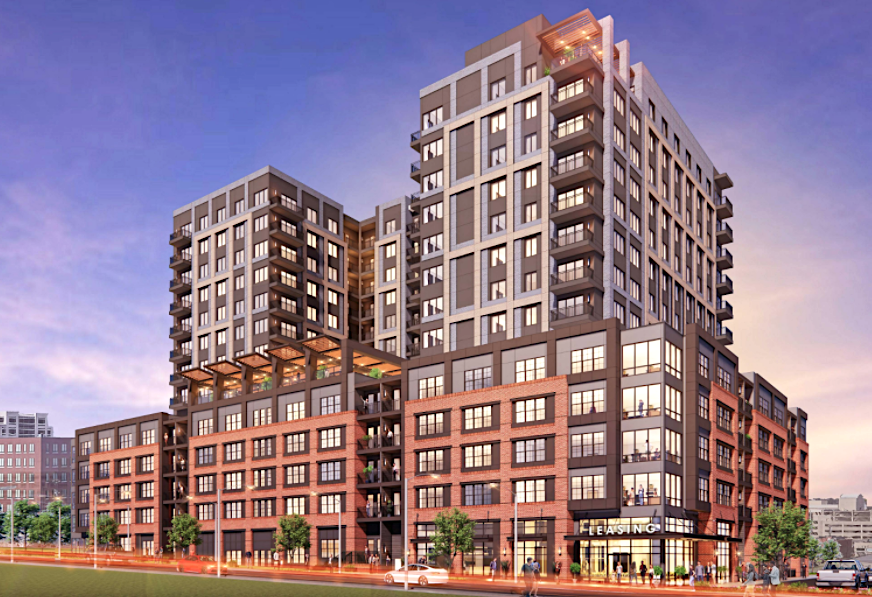 St. Louis-based Subtext seeks to undertake the project on seven parcels with a collective 1.04 acres and addresses of 1904 Hayes St. through 1918 Hayes St. According to a Metro document, the building (pictured) is slated for 14 levels and 286 units, with nine floors of residential on top of a five-floor, 310-space parking garage. The structure will offer 192 one-bedroom units, 74 two-bedroom residences, 30 three-bedroom units and a 10,000-square-foot leasing office.
Marketing materials note the building will offer a private café, rooftop lounge, pool and fitness center, among entities. The permit notes 15 floors but previously released information references 14 stories. Subtext officials could not be reached for comment.
Atlanta-based Dynamik Design is the architect. That company designed Alta Foundry, work on which is underway in North Nashville near Midtown.
Read more here.
Connecticut real estate company now owns Pie Town property
The Davidson County Register of Deeds has recorded the purchaser of a Pie Town property sitting adjacent to the Nashville Union Rescue Mission as Post Road Group.
As previously reported, the company paid $19 million for the 1.06-acre property, which offers an address of 601 Lafayette St. and also is located near the structure home to City Winery.
Based in Stamford, Connecticut, and founded in 2015, Post Road Group notes via its website the company has about $1.5 billion in real estate investments.
The seller was local businessman George Fournier, who previously operated Industrial Rubber and Gasket on the site. Since moving his business in mid-2017, Fournier had utilized the property as surface parking.
Fournier paid $455,000 for the property in 1994, Metro records show.
The deal is the equivalent of about $411 per square foot based on acreage, a figure in line with the marks of similar deals recently completed within the general area.
Read more here.