Downtown's Fairlane Hotel has sold for $40 million, with one of the new owners a London company making its initial purchase in downtown Nashville.
According to a Davidson County Register of Deeds document, the seller of the 13-story building, with an address of 401 Union St., was an LLC affiliated with Nashville-based Oliver Hospitality. The LLC paid $1.02 million for the building in 2011 and converted it to the boutique hotel.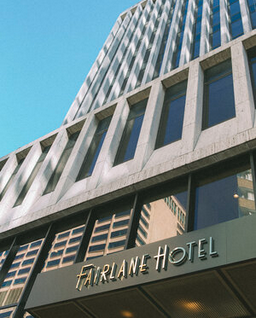 The new co-owner of both the building and the hotel business is a partnership that includes London-based Cedar Capital Partners. That company, teaming with investors, recently acquired both Robert Redford's Sundance Mountain Resort and Shelborne South Beach Hotel in Miami.
In addition, Dallas-based Westdale Real Estate Investment and Management teamed with Cedar Capital to buy Fairlane and is the majority owner. Of note, Westdale also owns The Players Club of Brentwood, a garden-style apartment complex located in South Davidson County. This seemingly is Westdale's first hotel acquisition, according to the company website. Westdale officials could not be reached for comment.
Relatedly, Westdale has landed a loan for $24.45 million from New York-based Benefit Street Partners.
The modernist Fairlane Hotel structure, bathed in travertine stone, previously served as an office building and was once Nashville headquarters of the now defunct Fidelity Federal Savings & Loan.
Opened in early 2018, Fairlane Hotel offers 81 rooms. As such, the deal is the equivalent of about $490,000 per room, which is about average compared to the figures of similar recent sales.
Oliver Hospitality will continue to manage the hotel business, according to the company.
The New York office of Cushman & Wakefield facilitated the transaction, a release notes.