Less than two weeks after launching its aircraft cargo service at Nashville International Airport, Amazon has announced it will add 6,600 full- and part-time logistics jobs across the seven Amazon fulfillment warehouses in Tennessee by Jan. 1.
Hiring is already underway for the fulfillment and transportation positions. Wages for the jobs start at $18 on average and reach up to $22.50 per hour in some locations, according to a release. The company will also offer up to $3,000 in signing bonuses for both full- and part-time employees at specific sites, in addition to tuition benefits.
The effort is part of a nationwide hiring spree, in which the company is seeking to add more than 100,000 warehouse and transportation workers.
Amazon has made more economic investments and expansion in Tennessee this year than any other state, according to Amazon public relations manager Av Zammit.
He said there were many factors that played into the company's expansion in Tennessee, but the most influential were the company's existing presence in the area, affordable land prices, few COVID restrictions that would prevent shutdown and its central location.
"Middle Tennessee is the trucking capital of the U.S. In a day's time, drivers can get to Miami, Chicago, St. Louis, Austin, Kansas City and other large metro areas," Zammit said.
About 1,500 of the 6,600 new Tennessee positions will be at MQY1, the Amazon fulfillment center in Mt. Juliet. These additional jobs will nearly double the current 2,000 employee workforce at the facility. Zammit said each of Amazon's facilities are named after the nearest airport — in this case, it's the Smyrna Airport.
The 3.2-million-square-foot, five-story building spans 25 football fields. It's the second Tennessee fulfillment center to include advanced robotics technology. Memphis was the first. Approximately 314,000 items come in and out of the facility per day. Employees will also receive a $40 bonus for each dose of the COVID-19 vaccine they receive.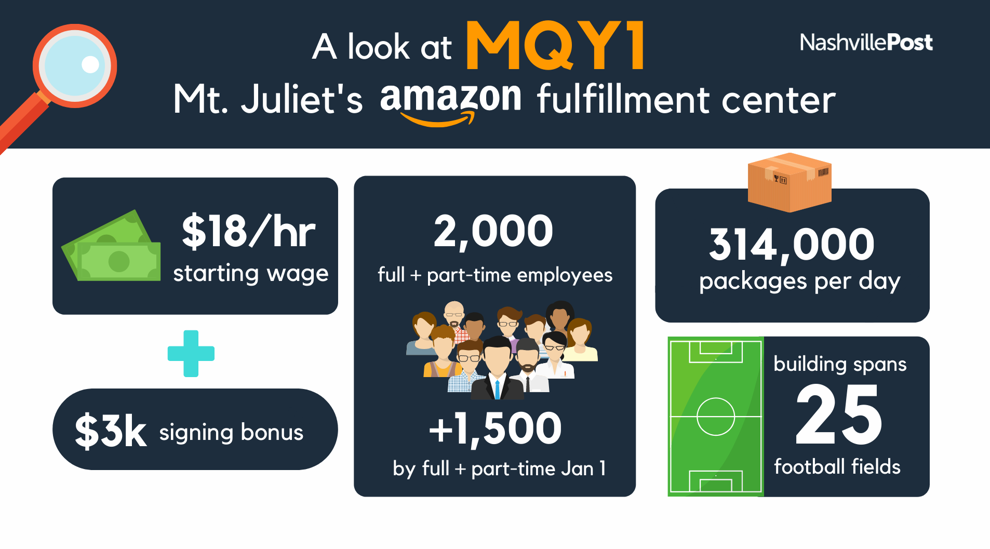 Operations Manager Todd Smoak has worked with Amazon for seven years and said the technology at the Mt. Juliet facility has made work more efficient and enjoyable.
"Packers don't have to run down, reach or bend to fulfill orders," he said. "A robot delivers the package directly to them and they are stationary scanning and inputting barcodes."
Smoak acknowledged the gruel and grind at fulfillment centers that lack robotics technology.
"Those days really took a toll on my body," he said of his time at another Amazon facility without the robotics. "You went home aching."
Zammit could not reveal specifics but said Middle Tennessee is primed for other job announcements before the end of the year.