The Titans 2023 rookies trotted into the media spotlight for the first time under working conditions over the weekend, going through the second of three rookie minicamp practices.
The mix featured the Titans' six drafted rookies, 14 undrafted free agents, 21 minicamp invitees and a smattering of inexperienced players that were with the team last season.
Predictably, there were a few flubs — a mishandled snap by quarterback Will Levis on the first snap, a dropped pass by running back Tyjae Spears, an occasional misaligned formation.
But overall things went pretty smoothly, as Levis got off to a solid start, even finishing the session with a tight-window completion to tight end Josh Whyle in the midst of defenders. Spears looked elusive and found holes to run through, though all the drills were non-contact. Offensive lineman Peter Skoronski showed good footwork and looked explosive coming off the ball.
We'll learn more about the rookies as the offseason progresses.
Here are five storylines to follow: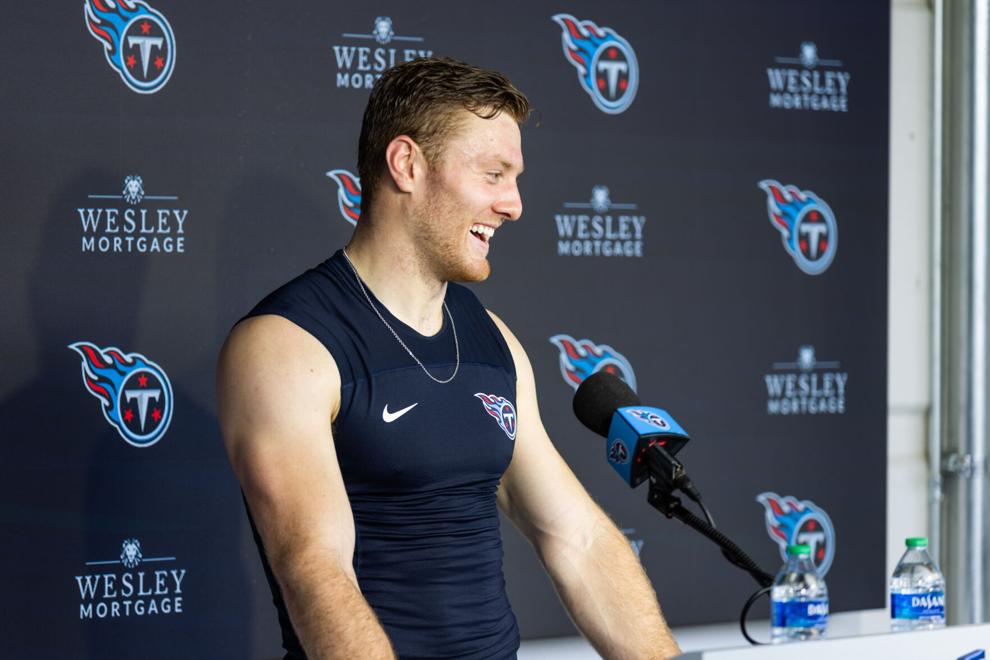 Quick NFL transition for Levis?
Levis, the Titans' second-round draft pick, said his transition from Kentucky to the NFL has been helped by the fact the Wildcats used a pro-style system.
Levis' coordinator during his junior season, Liam Coen, had previously worked for the Los Angeles Rams.
So far, Levis has found a lot of similarities between the two offensive schemes.
"A good amount, a good amount," Levis said. "You can fall into the trap of, `This is what we called this at Kentucky, so that's what I want to call it in my mind.' You've got to erase that, erase everything in the past and you've got to put it in the language of how we call it. That's been the biggest thing for me."
Titans head coach Mike Vrabel said it's not necessarily unusual for college and pro schemes to have similarities. But he said the big difference for Levis will be in what defenses throw at him on the NFL level.
"There's a lot of carry-over from offenses and defenses," Vrabel said. "But for a young quarterback, it's going to be the defensive looks. It's going to be the disguises. It's going to be the different rolled coverages, some of the different fronts you're going to handle.
"So he may have somewhat of a working knowledge of the concept of a play ... But then the defenses he'll be going against will be much different than some of the looks he got in college."
Skoronski learning two positions
Skoronski, the Titans' first-round selection, played 2,364 snaps at left tackle at Northwestern, earning All-American honors at the position.
He played zero snaps at guard.
But because of his comparatively short arms (32-1/4 inches) for a tackle, many believe he'll wind up as a guard for the Titans.
Skoronski said he was getting reps at both positions during rookie minicamp.
"I've been working at multiple positions, at the inside and outside," Skoronski said. "Overall, I'm just trying to learn schematically, and learn our schemes overall. I think that helps me, for just being able to change around positions and try to help the team at every position."
Learning two positions does present more of a challenge.
"Obviously I have to be willing to learn new techniques from [offensive line coach Jason Houghtaling] and everybody, and just adjust to new position and new things I haven't done yet," Skoronski said. "So it's just a matter of getting reps and just getting time working at that."
Vrabel is confident Skoronski can handle the added mental work.
"He's been able to handle more than one position, and if we didn't feel like he could handle that, then we wouldn't do it," Vrabel said. "But certainly I wouldn't have a problem working him at either guard or tackle spot and [we'll] see where he progresses, and see how he looks when everybody else gets here."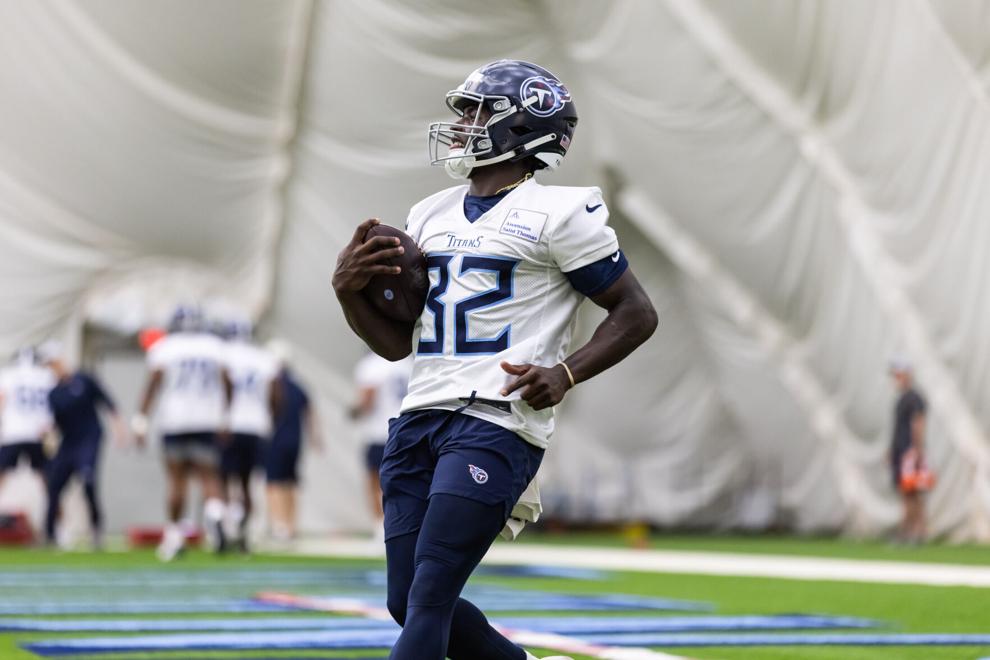 Skip that ACL talk
In case you were wondering, running back Tyjae Spears, the Titans' third-round draft pick, has no interest in elaborating on the NFL Network report — delivered not long after his selection in the NFL Draft — that he actually has no ACL in his right knee.
It was known that Spears had undergone two ACL-repair surgeries, one in high school and one at Tulane in 2020. But the complete lack of an ACL?
"I was out there [practicing at minicamp]," Spears said. "I did everything. So I feel perfectly fine. Nothing wrong with me. I'm healthy."
Sure, but do you have an ACL in the right knee, he was asked?
"I am healthy," Spears said.
Fair enough. It's understandable Spears might not want to talk about past injuries, especially given the fact they hardly hindered him last year. In his final season at Tulane, Spears carried 229 times for 1,581 yards (6.9-yard average) and 19 touchdowns.
"I guess that's the question that's always going to pop up, but like I said, `Man, I'm here,'" Spears said. "They have a lot of faith in me to get me where they got me, and so I'm healthy and they know I'm healthy, and I did well these past two days."
The concern would seem to be more about the long term, as it's easy to wonder whether the knee issues might limit the longevity of his career.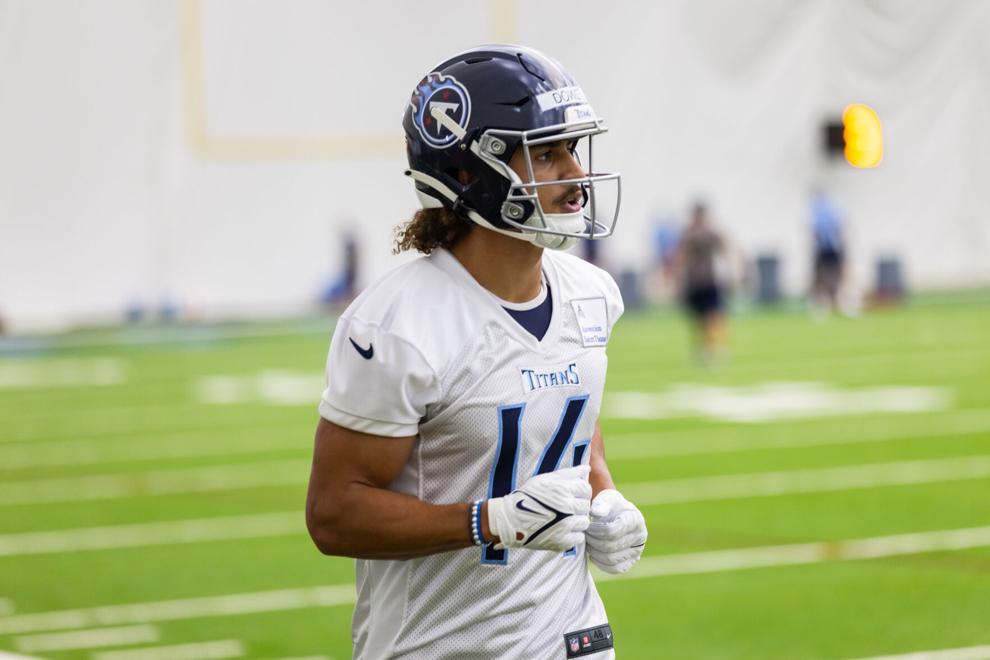 Dowell bounces back
There were plenty of eyes on Colton Dowell, the Titans' seventh-round pick. Not only does he have local ties — as a Lebanon native, Wilson Central High and UT-Martin alum — but Dowell was also the only wide receiver picked by the Titans.
The 6-3, 215-pound Dowell took an early tumble Saturday, tripping and falling while moving through a rope ladder on the ground. But he rebounded later in seven-on-seven drills, making some nice catches.
Dowell explained with a smile afterward that his adrenaline-filled system was moving faster than his mind. But he credited one of his former UT-Martin coaches with instilling a mindset that allowed him to recover from the spill.
"I used to be a perfectionist," Dowell said. "He came up with this thing called, `One snap and clear.' So whatever it is you do in the past, you just gotta let it go and the next play is the next play. That's what you're really focused on. You're not really thinking about that trip or that drop or that good play. It's in the past and you just make another one."
Speaking of Dowell, the small-school product said he hadn't been overwhelmed by the talent upgrade at rookie minicamp.
"There's definitely a higher level of athleticism," Dowell said. "But the type of guy I am at practice and the type of program [we had at UT-Martin] … it was high intensity. I go hard every day and I try to get the most out of not only me, but my teammates as well.
"Yes, there's a difference in athleticism of course because it's professional, but the way we go about it has been the same."
Living up to their jersey numbers?
The minicamp was the first time Titans rookies wore their new jersey numbers in a practice setting.
Skoronski wore No. 77, which was not only his number at Northwestern, but also the number worn by former Titans left tackle Taylor Lewan. Though Lewan is a free agent, Skoronski still felt he should check in with the nine-year vet — and three-time Pro Bowler — before asking for No. 77 here.
"He did give me the blessing," Skoronski said. "Obviously I wore 77 in college, so it was nice to keep it consistent. But obviously I have big shoes to fill with Taylor having been such a great player for this franchise."
Levis picked jersey No. 8, saying it was simply "a cool number." But he added that he liked the connection to a couple of Hall of Fame quarterbacks who wore No. 8 — former Dallas quarterback Troy Aikman and former San Francisco quarterback Steve Young.
"I remember actually [Penn State coach] James Franklin in my early days at Penn State, he just said how I threw the ball a little bit kind of reminded him of Troy Aikman," said Levis, who began his college career at Penn State.
"So being a multi-Super Bowl champion, that's pretty cool. Then also, I'm from Connecticut. The best quarterback from Connecticut all-time is Steve Young, who's number eight. … But no real reason. I just thought those were two kind of cool connections."