It's no secret that Belmont University has been growing ​​rapidly.
Within the past decade, it has seen increasing enrollment (apart from the pandemic-affected 2020), inaugurated a new president, built a fully functional law school, absorbed both Watkins College of Art and O'More College of Design, and constructed residential halls and a major performing arts center. Its main undertaking, however, is the creation of the Thomas F. Frist, Jr. College of Medicine. (This story's author attended Belmont but before the establishment of the medical college.)
In 2020, then-Belmont President Bob Fisher announced plans for a medical college named after Frist, one of the founders of Nashville-based Hospital Corporation of America. Frist founded HCA with his father, Thomas Frist Sr. and Jack Massey, after whom Belmont had already named its college of business. Not only is the future medical college to honor HCA's co-founder, but it will partner with the HCA and its local TriStar hospitals to provide training to Belmont's future medical students. Pending accreditation from the Liaison Committee on Medical Education, BU President Greg Jones, who came onboard in June, is hoping the college will see its first students enroll beginning in the summer of 2023.
The construction of the medical college building is currently in its early phases along Wedgewood Avenue. Renderings show a Greek revival-style building to match Belmont's existing design aesthetic. Nashville-based ESa, which has designed several Belmont buildings, will serve as the architect. Several houses between 12th Avenue and 15th Avenue have been razed and construction crews have already broken ground on the new site. The building will span about 200,000 square feet and offer a below-ground parking garage. It will house lecture halls and labs equipped with virtual and augmented-reality simulation spaces. It is also slated to host space dedicated to Tennessee Healthcare Hall of Fame inductees.
Jones tells the Post that he is planning for lots of collaboration between the medical college and Belmont's existing programs. The university already hosts the Gordon E. Inman College of Health Sciences and Nursing along with a pharmacy college, and Jones notes that "interprofessional education ...  will be a hallmark of our medical school." He also anticipates collaboration with Belmont's business and law programs, along with its music and arts offerings to integrate aspects like music therapy.
One aspect that will set Belmont's medical college apart, according to Jones, is its emphasis on faith.
"We really want to have that kind of faith-animated vision of health care, which means that you treat each person with an inherent dignity and respect [and] that you care about the families and communities that surround them," he says.
Belmont is a nondenominational Christian university, but Jones notes that the medical college will be welcoming to non-Christians. When asked how the college might address those who would prefer not to mix religion and science, Jones says, "there are other medical schools that do that, and that's just fine, so they can go there."
In December, Belmont announced Bill Bates as dean of the medical college. Bates has extensive experience in health care, with former roles at Vanderbilt University Medical Center, PrincipalCare in Brentwood, South Carolina's Greenville Hospital System, Medical University of South Carolina, Meharry Medical College and electronic medical records company digiChart, among others.
"[Dr. Bates] brings both the traditional medical school strengths as well as the business acumen," says Jones. "And he understands the evolving technology in medicine, and that's going to be important."
Bates' experience at Meharry Medical College could serve as an avenue for collaboration between the two institutions, and Jones says that he wants to partner with Meharry moving forward. Meharry and Vanderbilt are the other medical colleges in Nashville (and the region). And while Vanderbilt relies on its internal hospital network and Veterans Affairs for medical training, Belmont and Meharry will both be partnering with HCA's TriStar hospitals, though Meharry also relies on Nashville General Hospital as its teaching college.
Bruce Deighton, the president of graduate medical education for HCA, says that, while there are certain regulations set by the LCME regarding how different teaching hospitals can interact with multiple colleges at a time, he doesn't anticipate any issues with Belmont and Meharry's shared connections to HCA.
"It's really a matter of working through the details of schedules, accreditation requirements, supervision requirements and so forth," he says. "Meharry works with a number of different hospitals, so we don't believe that will be a real conflict. The details will tell the story there."
As for HCA's motivation to bring in another group of medical students to train at their hospitals, Deighton calls it "an opportunity to help a local university, to help the community here in Nashville. It's something we try to do whenever we have the opportunity."
While there are no financial benefits to HCA offering its facilities as training hospitals, it does establish relationships with prospective physicians.
"A big benefit — what we're trying to do with our [graduate] programs — is assure that we have a pipeline of physicians who can help meet that need to provide access to care," he says. "And right now we're retaining about a third of our graduates from our programs, which we think, compared nationally, is a pretty good track record."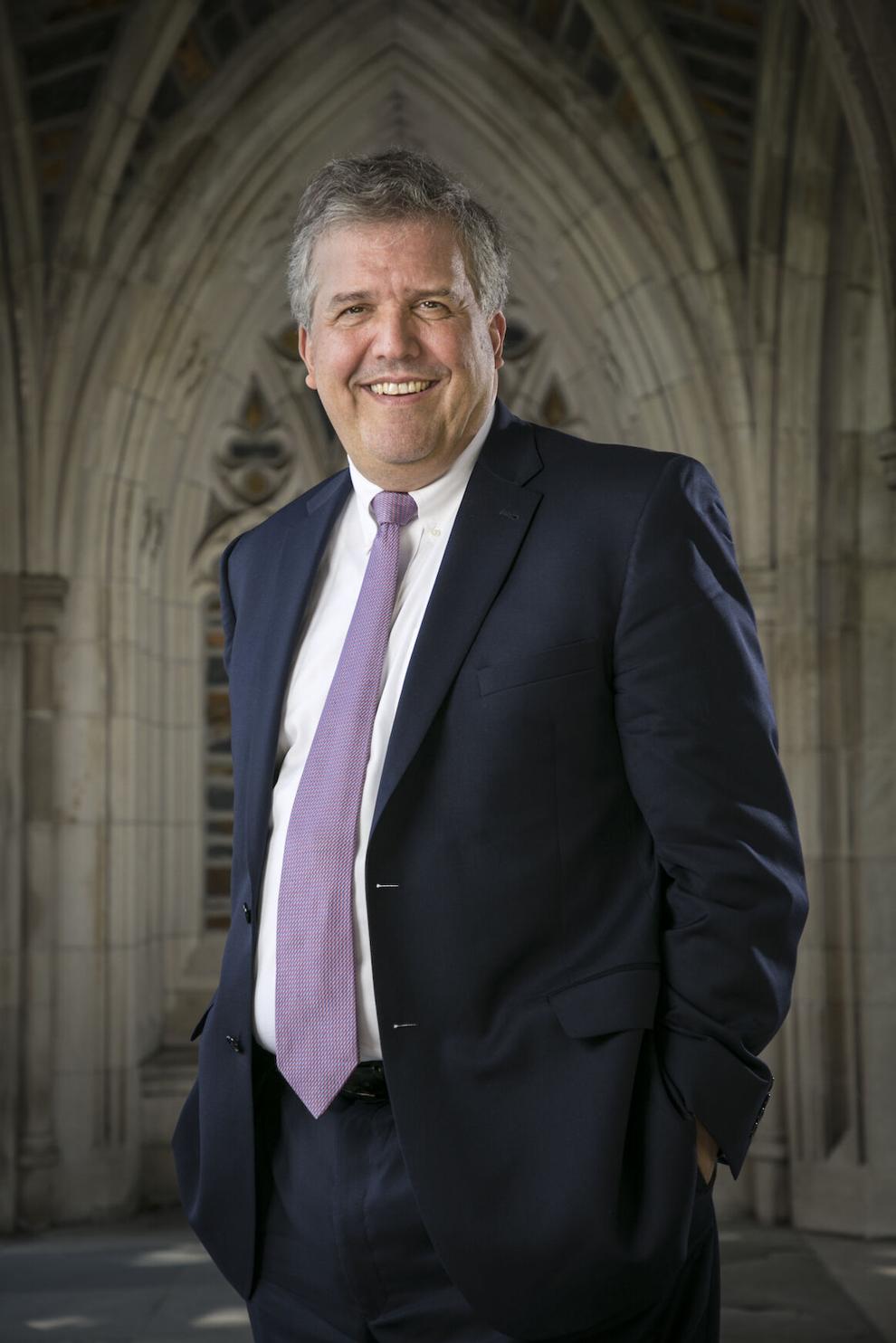 Both HCA and Belmont cite a projected need for physicians as a reason to launch the medical school. Each year, the Association of American Medical Colleges reports projected shortages, and, continuing a trend, the latest 2021 report predicts that the country could see a shortfall of between 37,800 and 124,000 physicians by 2034. These projections stem from increasing demand as the general population ages and the fact that many practicing physicians are nearing retirement age. It also accounts for the additional physicians needed to properly address health disparities in communities that have limited access to health care. Deighton doesn't think that the COVID-19 pandemic has weakened prospective students' interest in studying medicine, but "that remains to be seen."
Jones also notes the changing nature of the health care field as a motivation and an opportunity for the university to embrace those developments and prepare the next generation of medical professionals for evolving technologies and responsibilities. He says Belmont is planning for the new college to engage with community-based work that considers social aspects that affect health.
Alongside providing training hospitals to Belmont's medical students, which is mandatory for accreditation, HCA is also advising the university throughout the accreditation process. Jones says he has been able to consult with Thomas Frist Jr. about the college, along with former HCA CEO and chair of Belmont's board of trustees Milton Johnson, who recently donated $10 million to the program with his wife, Denice. "[Frist] has seen a rendition of the completed building and likes it very much," says Jones, "and we're really excited about his commitment to this college of medicine."
Rebecca Leslie, CEO of the Nashville Academy of Medicine, also tells the Post that her organization has engaged with the new medical college's leadership and that they "are excited about the continued opportunities this institution will bring to Nashville."
"Nashville has been proud to have two strong and prestigious medical schools in our community with Vanderbilt and Meharry," says Leslie via email, "and the addition of the Frist College of Medicine will be a continued positive force to further solidify Nashville as a hub for medical education and innovation in our state and in the country. No city in the country has the depth of medical history, innovation and camaraderie like Nashville, and we are excited for this addition to our medical community."
One nationwide concern that may arise with any new medical school, according to Deighton, is the fact that medical school enrollments are growing at a faster rate than the number of available residencies. Deighton says HCA is working to avoid a shortage of residencies (the step between medical school and a full-fledged career) so that it doesn't cause a bottleneck in the pipeline of incoming physicians needed to fill the projected market shortages. The nature of Belmont and HCA's partnership is to provide clerkships to medical students. However, when the time to apply for a residency comes, typically in a medical student's fourth year, Deighton says Belmont medical school students will be​​ "welcome to apply to any of our residency programs across the country."
Belmont still has a long way to go to get its medical school operational. Constructing a building, developing a curriculum, gaining accreditation and attracting students is a hefty to-do list, but it seems that the university isn't lacking support or resources. The question remains as to how Belmont might try to continue growing once the medical college is operational.
"We have really high hopes for what this [college] can mean for the future of health in Middle Tennessee and across the country," says Jones. "And having Tom Frist Jr.'s name associated with the college really raises the bar for us for excellence, because he's been such a phenomenal leader across the country and indeed beyond the U.S. in health care. We're excited and honored to be associated with his legacy, and to be partnering with HCA Healthcare, in what we hope will be not only just another college of medicine. We hope it will be seen as a leader in the renewal of medicine that takes patient-centered health care very seriously, and we're really excited. ... We want it to be a school of medicine at Belmont that lifts up strengths and provides hope and inspiration for the renewal of health care and health care education."