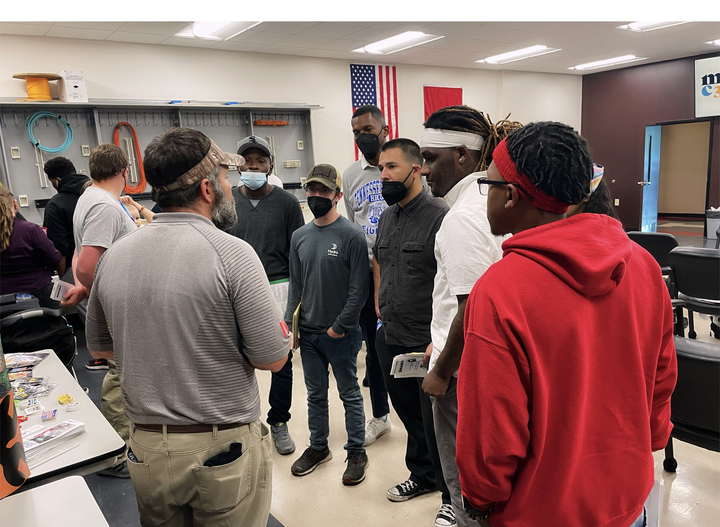 A group of trade associations is seeking to draw more Nashville-area workers into their fields. The coalition, called Music City Construction Careers, held a roundtable discussion and trades career fair Tuesday at the International Brotherhood of Electrical Workers building in Nashville to highlight union apprenticeship programs.   
Guest speakers included John Fant, David Rutledge, Brian Felts and Joe Bennett, representatives from different labor groups. Central Labor Council campaign and community coordinator Sam Malick-Petschulat organized the event.  
"About 30 years ago, our school system encouraged students to enter these trades. That shifted as college became more predominant in our education system," he said. "Most people were encouraged to go that route … and fewer people were encouraged to pursue mechanical and physical trades."  
Jovanny Garcia, a recent graduate of McGavock High School and a student in the program, said the training gave him a better understanding of why unions were established and how it could be beneficial for him financially.   
"I came in with the mentality to be an electrician because you do a lot with your hands, but they have had representatives from the plumbers and pipefitters area which interest me because it can scale from small houses to giant stadiums and army bases," Garcia said. "They've also shown us a lot that you can grow from, like build your own business and be a better person."   
A former student of Tennessee State University, Vincent Gilmore, has his mind set on working as an electrician or a pipefitter after learning about the trades through the program.  
"It has opened my eyes to a lot of things in the [trade] world, not only about the hard work you put in and the success you get out of it. It's the union, the brotherhood you'll have within the program," Gilmore said. "You learn many things on how to be disciplined."  
The trades apprenticeship program has various tracks, such as bricklaying, sheet metal, operating engineering and carpentry. Trades can provide men and women with the opportunity to earn a middle-class or upper-class income, Malick-Petschulat said.  
UA Local Union 572 official Eric Coons prides himself on being the third generation of his family to work in the plumbing and pipefitting field. He has seen the apprenticeship program open doors for workers wanting to increase their skills.  
"There is honor in what we do," Coons said. "We build this country. It's one thing to be a doctor, but where are you going to practice? We built your office. It's one thing to be a lawyer or judge, but you have to have a courthouse. We built that. We build America, and there is a lot of honor in that."   
Malick-Petschulat agrees, adding that society should appreciate people who would rather work with their hands than sit at a desk every day.  
"We should not be discarding those people from high schools and from our society to work minimum wage and precarious jobs," he said. "We should be training them to use the skills they do have. Just because someone doesn't enjoy reading and writing all day doesn't mean they don't have skills."