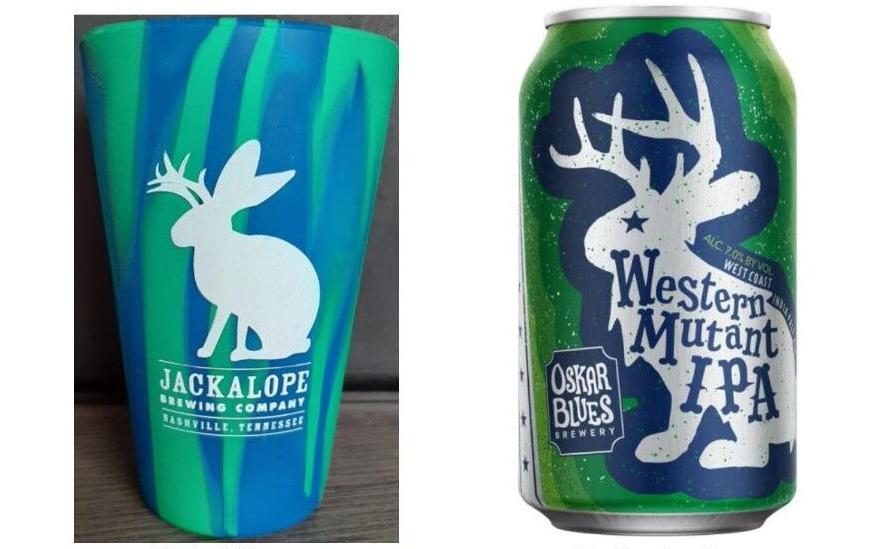 Locally based Jackalope Brewing Company has turned to the courtroom to stop Colorado-based rival Oskar Blues Brewery from distributing a new beer prominently featuring the visage of the mythical creature from which Jackalope takes its name.
Jackalope filed suit in federal court in late March against Oskar Blues parent CANarchy Craft Brewery Collective, arguing that Oskar Blues' limited series Western Mutant IPA violated Jackalope's trademark rights by using a silhouette of the creature.
During the course of the proceedings, Oskar Blues has denied that it is violating Jackalope's trademarks but agreed to switch to a different design featuring a monkey-like creature. As part of a negotiated court order, Oskar Blues also agreed to sell the remaining stock of jackalope-emblazoned beers west of the Mississippi River. (Jackalope distributes its beer almost exclusively in Tennessee.)
"We have spent over a decade building the Jackalope Brewing brand," Jackalope CEO Bailey Spaulding said. "We are grateful to the court for issuing the temporary restraining order to protect our brand and logo. We respect other breweries' trademark rights, and expect others to respect ours, too. We are thankful for our loyal customer base around the country, and look forward to finding a resolution that allows both parties to resume focus on what we prefer to do, which is make beer."
Oskar Blues did not respond to a request for comment via its legal team.
Jackalope initially contacted Oskar Blues in January with a cease-and-desist demand. In a response, Oskar Blues' attorney said that CANarchy "respects the intellectual property rights of others, but disagrees that it has infringed or otherwise violated" any of Jackalope's trademarks.
Oskar Blues has argued in court filings that Jackalope was misleading the court by comparing the Oskar Blues can to a Jackalope souvenir cup, rather than its actual cans, and also noted that Oskar Blues has used a small jackalope design on some releases dating back to before Jackalope was founded in 2011.
An initial case management hearing has been scheduled for June. Jackalope is represented by attorneys from Spencer Fane (formerly Bone McAllester Norton), while Oskar Blues is represented by lawyers from Wyatt, Tarrant and Combs in addition to an attorney from California.