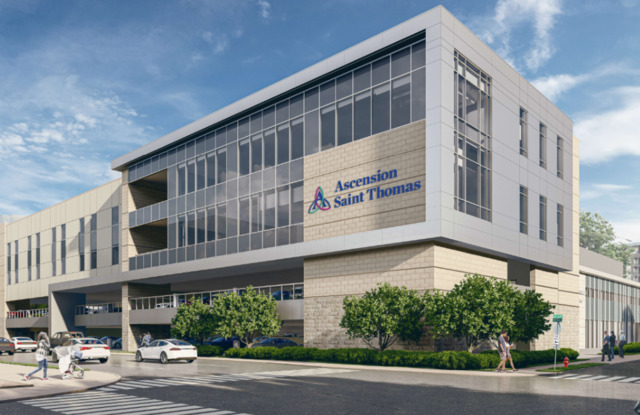 Ascension Saint Thomas is growing in the rehabilitation space. 
Ascension Saint Thomas Rehabilitation Hospital is set to open at 310 21st Ave. N. on Friday. The 40-bed hospital began accepting patients recovering from debilitating injuries, surgeries, chronic medical conditions and illnesses this week. The hospital includes apartment-style units that allow patients to practice activities of daily living, as well as a gym for physical and occupational therapy and a rooftop courtyard, according to a release. 
This new facility is a partnership with Kindred Rehabilitation Services, a business unit of Brentwood-based LifePoint Health. 
Relatedly, Ascension Saint Thomas and Upstream Rehabilitation, a Birmingham-based outpatient physical therapy provider, extended their existing partnership to include Upstream subsidiary BenchMark Physical Therapy earlier this week. This added 45 Middle Tennessee locations to the partnership. 
"This is a partnership that has a shared commitment to improving access for patients to world-class physical, speech and occupational therapies," said Tim Adams, president and CEO of Ascension Saint Thomas. "Physical rehabilitation and other therapies are important clinical services in the healing process for our patients and we are pleased to have found such an ideal partner in Upstream Rehabilitation."
HCA's nursing college announces Asheville location
HCA has announced a new campus for its Galen College of Nursing in Asheville, North Carolina. The campus is set to open in late September. 
HCA acquired a majority stake in Galen in 2020, and has since opened seven campuses. The Asheville location will make 13 total campuses. 
Adding campuses is part of an effort to aid the nursing shortage, according to a press release. 
The total enrollment for Galen is expected to reach 10,000 this year. 
"Our partnership with Galen College of Nursing enhances our ability to care for our patients and support our nurses while helping to address the national nursing shortage," said Sam Hazen, CEO of HCA Healthcare. "Nurses are the backbone of our organization, and we look forward to continuing to work with Galen to advance the practice of nursing and nursing education.
HCA employs more than 93,000 registered nurses and reports that 1,900 of their staff members are enrolled at the college for career advancement. 
Delta Dental of Tennessee donates $1M to Vanderbilt Children's Cleft and Craniofacial program
Smile180 Foundation, the charitable arm of Delta Dental Tennessee, announced a $1.075 million donation to Vanderbilt's Monroe Carell Jr. Children's Hospital for its Cleft and Craniofacial Program. 
These funds will establish a directorship for the program, for which there will be a nomination process, according to a release. Of the total commitment, $75,000 is also set aside for  expanding patient care through investing in technology and adding new programming. 
"This endowment will make a tremendous impact in our ability to meet the complex needs of patients with facial differences from birth through early adulthood, advance the field through research and innovation and moreover, attract and retain outstanding leaders in cleft and craniofacial care," said Dr. Michael Golinko, medical director of the Cleft and Craniofacial Program.