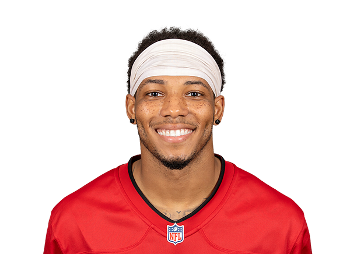 It looked as if cornerback Sean Murphy-Bunting might be an ascending star during the stretch run of his second season in the league.
He intercepted a pass in three straight NFC playoff contests — thieving Washington's Taylor Heinicke, New Orleans' Drew Brees and Green Bay's Aaron Rodgers in successive weeks — to help the Tampa Bay Buccaneers into Super Bowl LV, where they smoked Kansas City 31-9.
But it didn't take long for things to head in a different direction.
Murphy-Bunting suffered a dislocated elbow in the 2021 season opener, an injury that sidelined him for eight games.
His fortunes took another troubling turn in 2022 when Murphy-Bunting not only lost his starting job, but didn't play a defensive snap in the Buccaneers' first three games. The Michigan native would also miss five games with a nagging quad injury.
He did regain a starting job over the last month of the 2022 season, but it was still easy to see — after the Buccaneers' first-round playoff loss to Dallas — why Murphy-Bunting figured it might be time for a new beginning.
That, in a nutshell, is why Murphy-Bunting — a free-agent signee — will be wearing the jersey number zero this season, the first Titans player ever to do so following the NFL's rule change allowing it in March.
"I wouldn't even say it was [that] important being number zero," Murphy-Bunting said Tuesday. "I think it was more so for me just a new opportunity, to have a different journey. I've been through a lot in my years. I've only been in the league four full seasons, so just, it was a different journey for me and a different opportunity. So I just wanted a fresh start."
He'll get that with the Titans, where Murphy-Bunting, a second-round pick of the Buccaneers in 2019, would appear to be one of the team's top three cornerbacks — along with Kristian Fulton and Roger McCreary. There are other talented, young cornerbacks on the roster, such as Elijah Molden and Caleb Farley, but both have been troubled by injuries — as has Fulton.
Murphy-Bunting's versatility will aid him here, as he's played 1,242 career defensive snaps in the slot and 1,303 as an outside cornerback, per Pro Football Focus.
The fifth-year pro said he's been waking up every day with a smile, encouraged by the work ethic and the camaraderie of the Titans, even though those traits have revealed themselves in some grinding Mike Vrabel offseason workouts — like pushing practice sleds across the field in the May heat on Monday.
"We're doing things that are different," Murphy-Bunting said. "But at the end of the day, it's enjoyable. You come out here and it feels like we're working for something.
"It doesn't feel like you're coming to a nine-to-five job where you just show up and go to work and you leave. It's like, you want to be around. You want to be here. You want to grind with the guys that are here with you because you know they're going through the same thing. I enjoy it. I do."
Murphy-Bunting hopes some of these offseason workouts will contribute to a healthier 2023 than he had last season. The last thing Murphy-Bunting wants is another year plagued by soft-tissue injury, especially considering how troubled Vrabel was by recurring ones among Titans players last season.
"A lot of that probably was my fault, just not being on top of things more so," Murphy-Bunting said of the quad injury. "My playing time was cut down during the [early portion of the year]. That could be a reason why — once my workload increased [later] — injuries happen.
"I'm not sure and I don't have any excuses for it. But just for myself, [it's about] staying on top of everything, staying on top of my body, being a pro every day, taking care of the things I can take care of."
Happy and healthy?
Sounds like the reboot for Murphy-Bunting — he of the symbolic zero jersey — is off to a promising new start.
"You know, you deal with a lot of things throughout your time, whether it's injuries, playing time, whatever it may be," Murphy-Bunting said. "Some days, you can get down on yourself and if you let things interrupt what you have going for yourself, it becomes difficult to live your day-to-day life and do the things you set out to do for yourself.
"So I really just mean [a new journey] as being a free mind, free spirit and just really putting my head down and working and grinding, knowing why I play the game."