The Tennessee Titans have known their 2022 opponents for a while. And now they know exactly when and where they'll play them.
The NFL released the 2022 season schedules on Thursday night, highlighted by four primetime games for the Titans including Week 2 against the Buffalo Bills on Monday Night Football, Week 9 against the Kansas City Chiefs on Sunday Night Football, Week 11 against the Green Bay Packers on Thursday Night Football and Week 17 against the Dallas Cowboys on Thursday Night Football.
Tennessee was 3-0 in primetime games last year, outscoring opponents 75-36 with wins over the Bills, Super Bowl champion Los Angeles Rams and NFC runner-up San Francisco 49ers.
The most brutal part of Tennessee's schedule is arguably Weeks 9-12 when the Titans defense will be tested by four of the NFL's top quarterbacks — Patrick Mahomes, Russell Wilson, Aaron Rodgers and Joe Burrow. 
With noticeably easier games the following two weeks against Jalen Hurts and Trevor Lawrence, Tennessee faces Justin Herbert the next week, pitting the Titans against five of the league's top 10 QBs during a seven-week stretch.
Other takeaways from Tennessee's 2022 schedule include:
Seven games against 2021 playoff teams
Five games against 2021 division winners — Cincinnati, Dallas, Buffalo, Kansas City, Green Bay
Eighth-easiest schedule in NFL — opponents had combined 136-153 record (.471) in 2021
Face four of top five offenses from last season — Dallas, Kansas City, LA Chargers, Buffalo
Two games with five or fewer days of rest in between
Three games with at least nine days of rest in between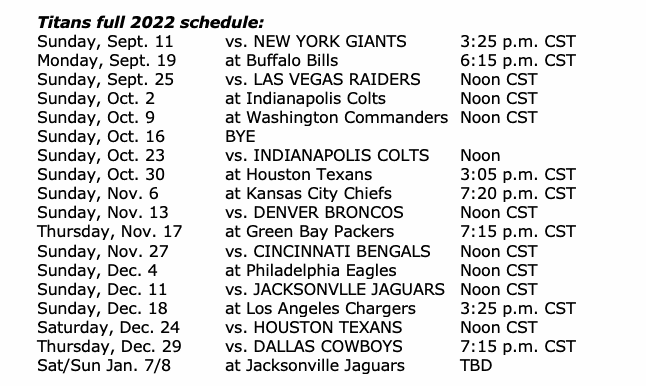 Follow Michael Gallagher on Twitter @MGsports_