Nashville gets a lot of attention for its successes — the cranes dotting the skyline, the big businesses moving to town. But the city is also facing significant challenges. Housing, a good education and a good wage are out of reach for too many Nashvillians. It's up to those on our 2023 In Charge list to push the city toward a brighter future.
See the In Charge lists for other industries here.
---
Kris Ahrend — CEO, Mechanical Licensing Collective: Leads organization that was created by publishers and songwriters to license and administer rights under the Music Modernization Act; recently announced it had distributed $1 billion in royalties. Held legal and executive positions at Rhino Entertainment and Warner Music Group, among others. 
John Allen — President, New West Records: Opened Nashville office for Athens-founded New West, whose roster has included Jason Isbell and James McMurtry.
Dan Auerbach — Musician, Producer, Frontman of The Black Keys and The Arcs: Owns and operates Easy Eye Sound recording studio and record label. Has produced albums by The Pretenders, Lana Del Rey and Yola. Co-founding business partner at Barista Parlor Golden Sound
Julie Boos — Chair and Co-Owner, FBMM: Oversees staff of more than 100 in Nashville, New York and Los Angeles. Powerhouse business manager to top industry clients.
Jamie Cheek — CEO and Co-Owner, FBMM: Along with Julie Boos, Duane Clark and others, helps run day-to-day operations at financial advisory firm that focuses on entertainment industry clients.
Dave Cobb — Producer: One of Nashville's most in-demand producers. Tenant of historic RCA Studio A. Helped recreate the sound of The King for the hit film Elvis.
John Josephson — Chair and CEO, SESAC: Three decades with performing rights organization, including nearly a decade at the helm. Oversaw its sale to Blackstone in 2017.
Derek Crownover — Partner, Loeb & Loeb: Prominent entertainment, media and sports attorney who brokers rights deals and other negotiations for well-known songwriter, publisher, artist and producer clients.
Mike Curb — Founder and Chairman, Curb Records: Major benefactor of Belmont University and music-related causes. Former California lieutenant governor and the songwriter and producer behind decades-old independent record company.
Doyle Davis and Mike Grimes — Co-Owners, Grimey's New & Preloved Music: Moved renowned indie record store from Eighth Avenue South to East Nashville in 2018. Also involved with live music venues The Basement and The Basement East.
Rod Essig — VP, Creative Artists Agency Nashville: Past chair of the Academy of Country Music, helped CAA become one of Music City's most important agencies. Represents Tim McGraw, Martina McBride and other stars.
Katie Mitzell Fagan — Head of A&R, Prescription Songs Nashville: Helped Los Angeles-based company open a Nashville office in 2017 and the next year was named head of A&R.
Leslie Fram — Senior VP of Music Strategy, Country Music Television: Former programmer and radio host has sought to diversify country music offerings.
Joe Galante — Chairman, Galante Entertainment Organization: One of the key figures of country music history, a past RCA and Sony Music Nashville. Inducted into the Country Music Hall of Fame last year.
Becky Gardenhire — Co-Head, WME Nashville: Promoted to partner role in 2019. Began her career in the Beverly Hills office two decades ago. Has served on ACM and W.O. Smith boards.
Randy Goodman — Chairman and CEO, Sony Music Nashville: Former RCA exec took the helm at SMN in 2015. Since, label has brought home trophies and platinum records while introducing new stars.
Jed Hilly — Executive Director, Americana Music Association: Key figure in genre's growing stature since taking charge at advocacy group in 2007. Grammy and Emmy winner in his own right for work on "Levon Helm: Ramble at the Ryman."
Joe Hudak — Senior Editor, Rolling Stone Country: Former TV Guide editor and Country Weekly managing editor who helped launch Rolling Stone's Nashville-based country coverage.
Brent Hyams — General Manager, Cannery Row: Tasked by DZL with managing the future venues at the former site of Mercy Lounge, the High Watt and Cannery Ballroom. Longtime live music official with the Ryman Auditorium, the Grand Ole Opry and TPAC.
Jay Joyce — Producer, Songwriter and Session Musician: Work with Miranda Lambert, Eric Church, Emmylou Harris and Cage the Elephant has won awards and topped charts. Transformed an East Nashville church into a studio.
Ben Kline and Cris Lacy — Co-Presidents, Warner Music Nashville: At the start of the year succeeded Josh Esposito as head of Warner's Nashville office. Kline was previously EVP and general manager, while Lacy had been EVP of A&R.
Jonathan Loba — President, BMG Nashville: After industry giant BMG bought local label group BBR in 2017, longtime exec stayed on. In 2022 added publishing duties to label responsibilities.
Cindy Mabe — Chair and CEO, Universal Music Group Nashville: Succeeding veteran label exec Mike Dungan this year after promotion from president. Trailblazer in male-dominated major label world.
David Macias — CEO and Co-Founder, Thirty Tigers: Versatile Grammy-winning producer who handles marketing, distribution and management for Jason Isbell, Lucinda Williams, Patty Griffin, Aaron Watson, Trampled by Turtles and others.
Shane McAnally — CEO, SMACK and Co-President, Monument Records: Has written or produced dozens of No. 1 hits, including for Sam Hunt and Keith Urban. In 2017, Sony Music tapped him and Sandbox Entertainment CEO Jason Owen to run revival of Monument.
Michael Milom — Partner and Founding Member, Milom Horsnell Crow Kelley Beckett Shehan: Taught copyright and entertainment law at Vanderbilt for decades. Helped establish Tennessee Volunteer Lawyers for the Arts board and has advised the Country Music Hall of Fame and Museum, Country Radio Broadcasters and other big industry names.
Jason Owen — President and CEO, Sandbox Entertainment: Company's client roster includes Kacey Musgraves, Faith Hill and, as of this year, actress Kate Hudson. Executive producer for Fox's country music soap opera Monarch.
John Peets — Founder, Q Prime South: Best-known for work with Eric Church, has also managed The Black Keys and Rhiannon Giddens. Last year partnered with Church to establish Solid Entertainment.
Jessie Scott — Program Director, WMOT: Influential radio voice in country and Americana. Co-founded Americana Music Association and helped MTSU station switch to Americana format.
Jim Selby — Chief Publishing Executive, Concord: Previously COO, took over publishing role at the start of 2001. Former Naxos of America CEO who has been with Concord since 2016.
Mike Sistad — Vice President, The American Society of Composers, Authors and Publishers: More than two decades with performance rights organizations. Belmont University alumnus was promoted to VP in 2019 and has worked with The Recording Academy, Operation Song and the Association of Independent Music Publishers.
Jennie Smythe — CEO, Girlilla Marketing: Founded digital marketing firm in 2008, with client roster now including Blondie, Brooke Shields, Darius Rucker, Paul Simon, Lee Ann Womack and Willie Nelson, among others. Making industry opportunities for women has been major focus.
Stephen Trageser — Music Editor, Nashville Scene: Teams with publication editor-in-chief D. Patrick Rodgers, a former music editor, to oversee coverage of local music scene for alt weekly influential off Music Row.
Sarah Trahern — CEO, Country Music Association: Took over at trade group in 2014 and has seen its CMA Fest weather a pandemic. Former Great American Country executive previously covered politics at C-SPAN.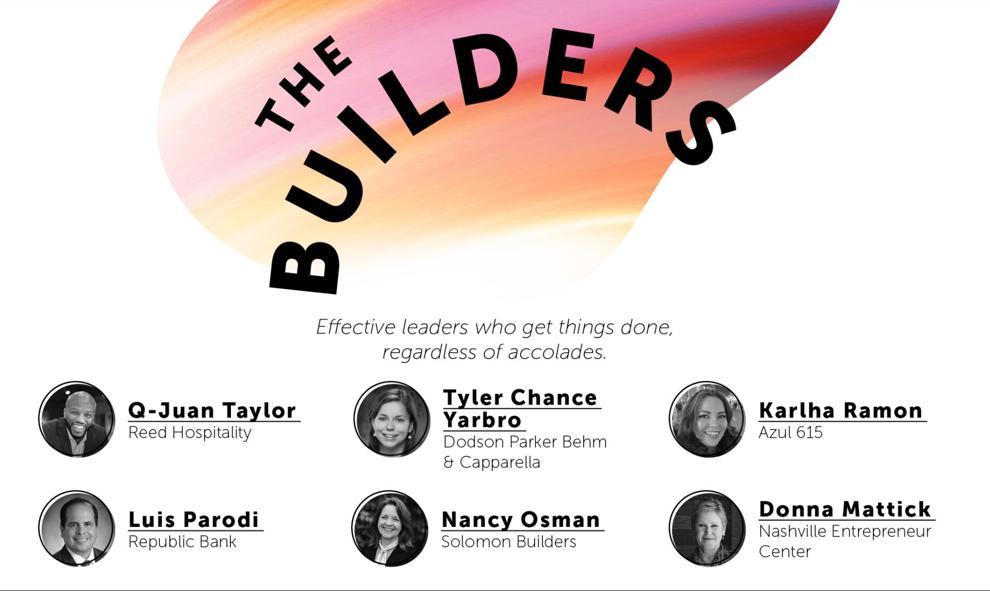 Lester Turner — President, TunedIn Broadcasting: Company is home to WRLT Lightning 100 and Live on the Green Music Festival, which returned in 2022 after two-year absence.
Mike Vaden — Principal, Elliott Davis: Leads regional firm's entertainment and family office practice. Accountant with long history of working with music industry figures including Johnny Cash, Waylon Jennings and George Jones.
Jack White — Musician and Owner, Third Man Records: Grammy winner known for work with The White Stripes, The Raconteurs and The Dead Weather. White Stripes' platinum album Elephant celebrates 20-year anniversary this year.
Jason Moon Wilkins — Program Director, WNXP: Longtime stalwart of local music scene. A founder of Do615 and later a daily host on Nashville's NPR affiliate, now leading programming at its indie music station.
Sally Williams — President of Nashville Music and Business Strategy, Live Nation: Former head of Opry Entertainment Group programming and artist relations division and Grand Ole Opry GM. Oversees Live Nation operations of Live Nation Nashville venues Ascend Amphitheater and Brooklyn Bowl.