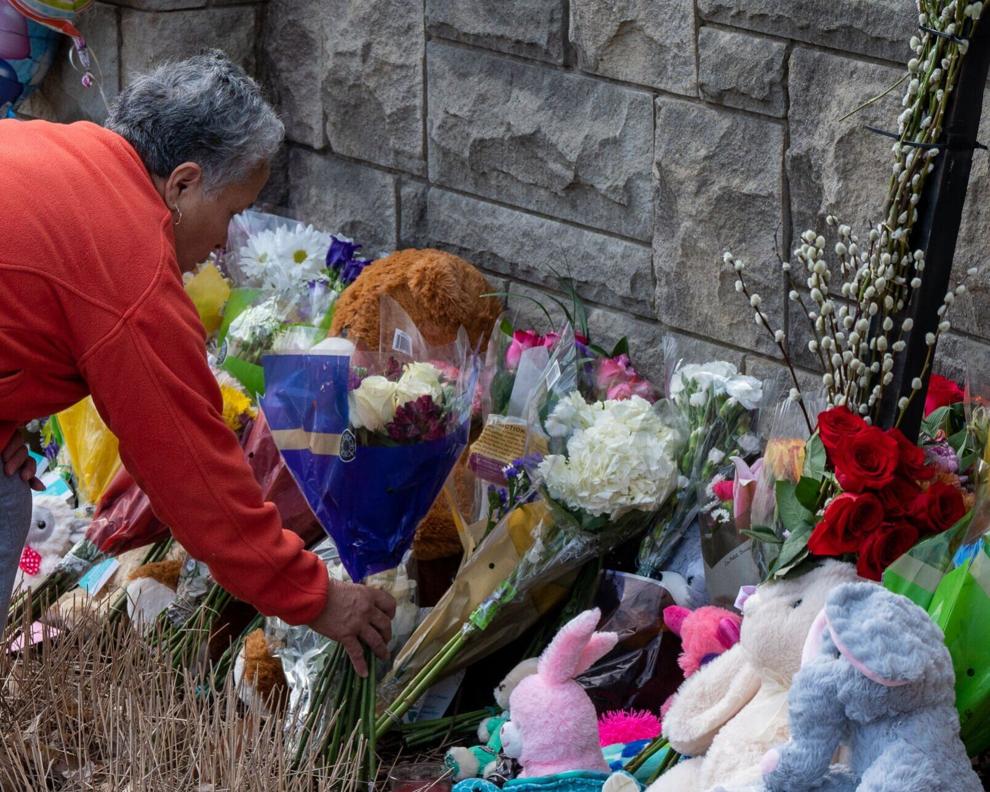 Everyone responds to tragedy differently. 
Often, those with the ability to do the most do the least.
But in the wake of Monday's Covenant School shooting that left three schoolchildren and three school employees dead, many in and around Nashville are looking for ways to support those in need. Here's a quick guide. 
Give
For some, the easiest way to respond to weeks like this one is to give money, and often financial resources are most in need. 
The Community Foundation of Middle Tennessee has long served as a clearinghouse in the wake of natural disasters and other such events, and the group has set up a fund benefiting the school and the shooting's survivors. 
A separate fundraiser has been established for one of the victims, Mike Hill, who was a custodian at the school. According to a GoFundMe post, he was the father of eight children. 
Nine-year-old Evelyn Dieckhaus was one of three students killed Monday. A GoFundMe has been set up to support the Dieckhaus family, with the organizer saying that all funds raised will go to the family.
Another GoFundMe raises money for family members of Hallie Scruggs, another student who died Monday. A family photo on the site shows that Hallie had three older brothers.
Love & Lion, a Nashville retailer that has long raised funds for charitable causes by producing shirts, stickers and posters, will offer a new range of items to raise money for Everytown for Gun Safety. Founder Leah Hasson says 100% of sale proceeds from the items — which range from a shirt with the message "Protect Kids Not Guns" to downloadable graphics for protest signs — will go to the national nonprofit, which advocates for gun control.
Gather
Whether it's a protest or a candlelight vigil, there are opportunities to gather with others to grieve or petition your representatives. 
Tuesday, 3 p.m., Parnassus Books: Located in Green Hills near the school, Parnassus Books is "here if you need a place to be today." The bookstore is hosting a Dog Man Celebration from 3 to 5 p.m. with "graphic novels and shop dogs aplenty."
Tuesday, 6:30 p.m., Mt. Juliet: Members of the nearby Mt. Juliet community are coming together at the City Clock Tower at the intersection of Mt. Juliet Road and Division Street for a vigil. Pastors, government officials and others are seeking to create a space for educators, students, first responders and others to gather. 
Wednesday, 5:30 p.m., Public Square Park: Mayor John Cooper, MNPD Chief John Drake and other public officials are leading a candlelight vigil in front of City Hall. 
Thursday, 8 a.m., Tennessee State Capitol: Parents and kids are rallying in front of the state Capitol "to advocate for an end to gun violence and stronger gun laws in Tennessee."
Saturday, 10:30 a.m., Mindful Nashville-Germantown: Quiet moments of reflection and self-care can be healing. Mindful Nashville will host a meditation gathering at its Germantown location Saturday.
Saturday, 11 a.m., Franklin Public Square: Our neighbors to the south are holding "a rally for common-sense gun laws" on Saturday. The event is organized by a group of parents hoping to attract the attention of top state leaders who hail from Williamson County, including Gov. Bill Lee, U.S. Sen. Marsha Blackburn and state Sen. Jack Johnson.
Sunday, 6:30 p.m., Riverside Revival: The Frequency Center will provide a free sound bath and meditation at Riverside Revival in East Nashville. Attendees are encouraged to reserve a spot at mynashvillecenter.com or theFrequencycenter.org.
Get Help
It's not just those in the Covenant community who will need help in the days to come. Students, parents and others in Nashville looking for a way to grapple with the violence can find some resources here.
Alive, a local nonprofit hospice organization, is hosting two webinars next month focused on "supporting your grieving child." The group has also shared resources from the National Child Traumatic Stress Network. More info here. 
The federal Office of Victims of Crimes has set up a Nashville-specific page with information about resources for those directly affected by the shooting. The site also has general resources for those needing or wanting to offer support. 
The Happy Hour is hosting free community support groups this Thursday and next. See here for more information. 
Several mental health professionals in the Nashville area are offering temporary Pro Bono or reduced fee therapy services to survivors. An online list compiled by Brooke Lamb of Mt. Juliet's Abide Counseling provides contact information for these therapists and their specializations.
Book publisher A Kids Co. offers a free online book on how to talk to kids about school shootings. The book is downloadable in PDF or e-book format.
Send more information to selliott@fwpublishing.com.