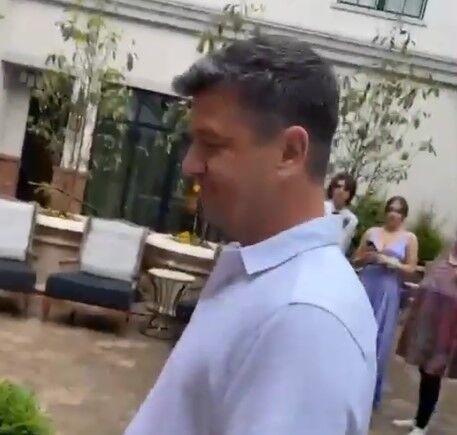 Samuel Johnson, former VisuWell CEO, and his wife Jill Johnson are suing comedian Kathy Griffin for alleged online harassment and internet stalking related to her reactions to a viral video that led to his dismissal from the Franklin-based company last April.
The video in question involves Johnson allegedly harassing two gay Franklin High School students while they were taking prom photos at The Harpeth Hotel in downtown Franklin. 
Griffin caught wind of the video as it was going viral and shared it with her 2.1 million followers, adding to its circulation. The incident was covered by many news outlets, including NBC News, Heavy.com, LGBTQ Nation and Newsweek, as well as local progressive outlet Tennessee Holler.
The 2021 viral clip shows 18-year-old Dalton Stevens wearing a dress to Franklin High School's senior prom. Stevens said Johnson maligned him and his boyfriend, Jacob Geitmann, with vulgar insults when they were taking pictures with friends in the lobby of The Harpeth, and at some point during the exchange that ensued, Geitmann began recording the video.
Johnson subsequently told WRKN during the immediate aftermath of the incident that he was responding to the students' behavior, rather than what the one student was wearing. 
"It had nothing at all to do with his attire," Johnson said. "It was all about their behavior originally. They made it about the attire. They were being obnoxious and profane in one of my favorite restaurants. Many of us in the restaurant were appalled and I was the only one willing to say something about it."
After the video went viral, VisuWell, a telehealth firm, saw its board of directors terminate Johnson and censure his behavior. The same statement explained that then-COO Gerry Andrady would take the helm.
The Johnsons' legal complaint in federal court frames the narrative of Samuel Johnson's termination as correlating with Griffin's behavior.
Referring to Griffin as "a malign internet provocateur" known for posting "disturbing" content on social media platforms, Johnson's attorneys allege she harassed him in a way that they say is consistent with her M.O. — accusing private citizens of vile conduct and then posting their personal information online, including their addresses and workplaces.
"It was Ms. Griffin's first tweet about the Video Clip that singlehandedly caused the Video Clip to go viral and reach widespread prominence on the internet," the suit claims. "Ms. Griffin's first tweet about the Video Clip brought the April 24 Incident to the forefront of America's 'culture wars' for several days in late April 2021."
However, the video had thousands of views before Griffin shared it with her followers.
Griffin's first tweet responding to the video read, "If this is Sam Johnson in Nashville, Tennessee, the CEO of @VisuWell, healthcare-tech-growth strategist, married to Jill Johnson where they may reside in Franklin, Tennessee, it seems like he's dying to be online famous."
The first post garnered 3,755 retweets, 533 quote tweets and 9,941 favorites as of Tuesday. 
In a separate message, she pushed for Johnson to be removed from the company's board of directors. 
"Leaving Johnson on the Board raises an eyebrow that the company intends to rehire," Griffin wrote. "Know the nation will remain vigilant."
The Johnsons' suit alleges that Griffin's social media response to the video encouraged her followers to "dox" both Samuel and Jill Johnson — a memetic term for leaking someone's personal information, typically done by a hacker.
"Our case seeks to recover monetary damages for allegations that Ms. Griffin doxed and harassed Mr. Johnson and his wife," said Todd McMurtry, one of the attorneys representing the Johnsons. "More broadly, this case seeks to establish a path whereby individuals attacked online can recover for the harm such attacks cause."
Griffin is an outspoken advocate on liberally minded causes, and she came under fire in 2017 for posting a violent image of her posing with a rendering of former President Donald Trump's severed head. She apologized for the image. 
McMurtry and J. Will Huber are two of three attorneys on the Johnsons' legal team from Fort Mitchell, Kent.-based Hemmer DeFrank Wessels, PLLC. The other is Lindsay C. Smith of Nashville-based Smith, PLC.