Houston-based The Dinerstein Companies — which has undertaken multiple residential projects and purchases in Nashville — has paid $35.9 million for apartment building Apollo Midtown Apartments.
The seller of the 105-unit building and the 0.68 acres on which it sits was Demarest, New Jersey-based Spyglass Capital Partners, according to Metro records. That entity paid about $25.7 million for the building in late 2019 (read here). The address is 2110 Elliston Place.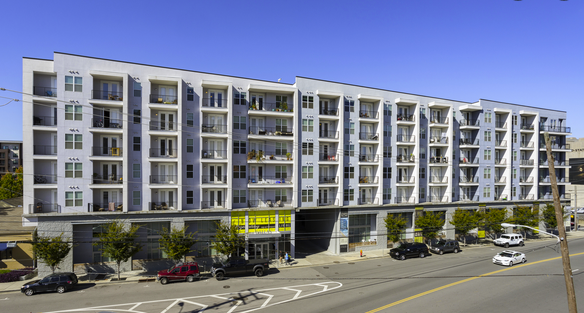 Rising six stories, Apollo Midtown welcomed its first residents in 2014 and was called The Dallas at the time.
The acquisition is the equivalent of about $342,000 per unit. For comparison, the 2019 deal was the equivalent of roughly $245,000 per residence.
I&G Elliston, which comprised Chicago-based LaSalle Investment Management and local development firm Giarratana, developed the site with The Dallas. I&G acquired the site for $1.8 million in January 2013.
The Post was unable to determine at publication time if brokers were involved in the deal.   
Relatedly, The Dinerstein Companies undertook Aspire Gulch (read here), an 11-story apartment building that recently opened at 805 Division St. In addition, Dinerstein is teaming Cincinnati-based real estate company Al. Neyer to develop a multi-parcel Midtown site with an apartment tower (read here).
The Dinerstein Companies owns Velocity in The Gulch and once owned (before selling) Millennium Music Row (read here).